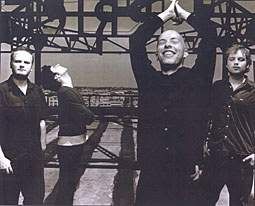 Coldplay
will be playing the
Kool Haus
on May 11th. Tickets go on sale April 22nd, two-ticket purchase limit. No other Canadian dates have been announced. I'm actually hoping they'll come back this summer and play
Molson Ampitheatre
. Just imagine: lawn seats under a moonlit summer sky and the band performing
"Green Eyes"
. Perfection. [info from
MuchMoreMusic
] [photo from
http://../
]
Speaking of
MuchMoreMusic
, highlights from the 2004
Glastonbury
festival will be broadcast tonight at 9pm EST. It reruns at 12:30am EST as well as tomorrow at 2pm EST.
According to the band's official site,
Puffy Amiyumi
plan to tour the east coast this August 2005. They'll be starting a tour of the west coast tomorrow, including one Canadian date in Vancouver at
The Vogue Theatre
on April 24th. They will also be appearing on
Jimmy Kimmel Live
on April 28th.
Great Lake Swimmers
will be in Hamilton @
The Staircase Theatre
on May 29th. Tickets $5. I called their box office phone number once and I remember them saying the place only holds 65 people. [info from
20hz
]
Bradleys Almanac
is graciously hosting mp3's of
Mary Timony
's set from
TT the Bears
in Cambridge, MA on April 19, 2005.
The Stereo Effect
says that the new
Boo Radleys
double-CD anthology entitled
"Find The Way Out"
will be released July 4th. Hop over to
The Stereo Effect
for the tracklisting.