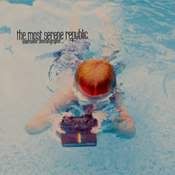 If I've read
this post
from
stillepost.ca
correctly,
The Most Serene Republic
from Milton, ON will be the newest addition to the
Arts & Crafts
roster! According to news at the band's site as well as
Sunday League Records
, the band has some upcoming tour dates including an opening slot for
British Sea Power
on May 17th at
Lee's Palace
in Toronto. Check out a streaming audio sample over at
Sunday League Records'
purevolume.com
page. Comparisons have been drawn to
Death Cab For Cutie
and
Broken Social Scene
. The band used to have their own purevolume.com page but it seems to be down now. I guess I'll have to wait for the British Sea Power show to check 'em out further.[Ok, so NOW I believe
Feist
will NOT be playing that night.] For more info on The Most Serene Republic check out
Sunday League Records
.
Here's a
link to a torrent
of a couple of
Sloan
live performances: 2005-04-21, Barrie & 2001-07-06, Toronto. Just the thing to get you psyched up for the band's new compilation
"A Sides Win"
which is coming out on May 10th. [thanks to
largehearted boy
for pointing out torrent link]
Mystery and Misery
has got a great
Indie-pop Summertime Mix
he's compiled featuring indie-pop songs he's found online.
Watch the
new video
for
Julie Doiron
's
"Snowfalls in November"
from her album
"Goodnight Nobody"
. [from
Endearing Records
]
Montreal's
Wolf Parade
will be at
The Comfort Zone
in Toronto on June 11th. [from
Sub Pop
]
Caught news over at
stillepost.ca
about a great new CD compilation called
"... A Compilation for Reach for the Rainbow"
released by
Basement Recording Co.
to raise money for
Reach for the Rainbow
. It'll sell for $14.99 or less and it'll feature a variety of good Canadian artists(mostly indie), including
Cuff The Duke
,
Joel Plaskett Emergency
,
Royal City
,
A Northern Chorus
,
Great Lake Swimmers
,
The Inbreds
and others. Release date June 14th.