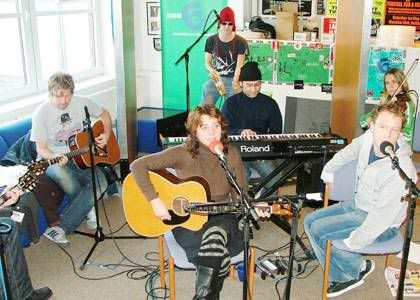 I'm getting ready to head down to
Lee's Palace
for the first of 6 shows that
Stars
has lined up for Toronto over the next 4 days. Of couse it had to be on a wintery day like today(I'm not looking forward to the driving) but maybe that'll put them in the mood to perform
The Pogues
'
"Fairytale of New York"
tonight(maybe they can change all the New York City references in the lyrics to Toronto references!). I'm a little under the weather today also but I'm hopped up on the cold medicine and Vitamin C, and after the little nap I had this evening, I'm raring to go!
Eye Weekly
had a brief Q & A with Stars' Torq Campbell about how they'll survive 6 shows over 4 days. Hehe.
The Montreal Mirror
talks to Stars' Evan Cranley about God and religion. Stars, Christian rock - yay or nay?