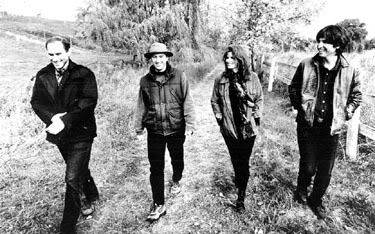 I used to love
Cowboy Junkies
. Their succession of 3 albums, from 1987's
"The Trinity Session"
, to 1990's
"The Caution Horses"
and 1992's
"Black Eyed Man"
came at a time that really opened me up for the first time to country music. Of course they never were a 'country' band but their forays into country music were definitely an influence on some of my alt-country/Americana musical tastes I subsequently developed. However with each passing album after "Black Eyed Man" I'd grown disinterested for one reason or another, none of which had to do with the Cowboy Junkies' music which was still some of the best music to come out of Canada at the time. Still through the 90's and into the new milleniun I continued to buy many of their albums but never devoting much time to them. Their show at the
Ontario Place Forum
(July 25, 1989) was one of my fondest early concert memories. Since 1989 I have yet to see the Cowboy Junkies live. However, I do make a vow that the next time they come back home to Toronto to perform, I will definitely go no matter what the cost. A not so little part of my renewed interest has to do with this year being the 20th anniversary of their landmark album "The Trinity Session".
Chartattack
reports that there are plans to commemmorate the 20th anniversary of the album and as
CBC.ca
reported back in October 2006 the Junkies have plans to return this year to the 'scene of the crime', the
Church of the Holy Trinity
in Toronto(located in the courtyard just behind the Eaton Centre) for the occassion. Not to dwell on the past only,
Chartattack
mentions that the Cowboy Junkies just completed recording a new 11-track album entitled "At The End Of Paths Taken" which will be released in North America on April 17 and internationally a week earlier. Chartattack also mentions that the band filmed performances at Toronto's Church of the Holy Trinity this past November with guests Natalie Merchant, Ryan Adams and Vic Chesnutt which I'm assuming is for some sort of DVD release in the future.
Torontonians will probably have to wait until after May for any local live dates from the band since they're
fairly booked up
until then with European/US dates and I don't anticipate them adding any Canadian dates at this time. I say a summer date would be great and an outdoor show on a warm summer night would be awesome.
MySpace
:
Cowboy Junkies
YouTube
:
Cowboy Junkies - Sweet Jane (music video)
YouTube
:
Cowboy Junkies - Misguided Angel (music video)
YouTube
:
Cowboy Junkies - Sun Comes Up, It's Tuesday Morning (music video)
YouTube
:
Cowboy Junkies - Angel Mine (music video)
YouTube
:
Cowboy Junkies - A Common Disaster (music video)
YouTube
:
Cowboy Junkies - I'm So Open (music video)
Torrent
:
Cowboy Junkies - live at The Spitz, London on 2007-01-29
(registration required)
Torrent
:
Cowboy Junkies - live at Teatro Ciak, Milan, Italy, 1990-04-12
(registration required)