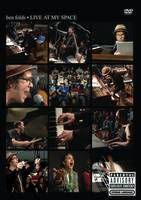 This coming Tuesday February 20 will mark the release of
Ben Folds
' "Live At MySpace" DVD which was filmed live at Ben's studio in Nashville, TN on October 24, 2006 for
myspace.com
's first ever live-by-request webcast. I've never been a fan of MySpace except for it's portal to
Music
but Ben's MySpace session last October almost convinced me to sign up just to request a song. Given some bandwith issues I was only able to catch a portion of the session during the original webcast but I do recall many of the in-studio audience members joining in in an army of acoustic guitars as Ben and band performed.
Here's a clip of Ben and his band covering of
Postal Service
's "Such Great Heights":
RealVideo
:
video
QuickTime
:
video
Windows Media
:
lo
|
med
|
hi
Americans can purchase the DVD through any of the indie records stores listed on
Think Indie
. Or you can buy it directly through Ben's
Attacked By Plastic
site. As for Canadians, I'm gonna have to suggest you check out your local indie record store - it's NOT listed on Amazon.ca, Futureshop.ca or bestbuycanada.ca. If word at
thesuburbs.org.uk
(Ben Folds Message Board) is to be believed, there may not be an international release. However as the message board does point out, there is a free downloadable version over at
wokeupwaytoolate.com
. The exact download link is below:
Video
:
Ben Folds "Live At MySpace" (WMV) [212 MB]
As for tour dates, Ben currently has some US dates scheduled starting late March through to the first week of May with more dates to be announced.