concert review
:
Brampton Indie Arts Festival
@
Rose Theatre
(Brampton, Ontario), Friday February 16, 2007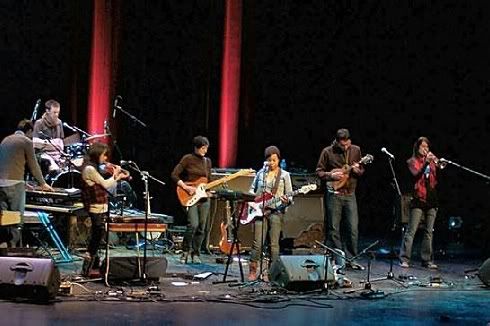 Friendly Rich
brought this year's edition of the
Brampton Indie Arts Festival
to the new Rose Theatre in Brampton last week with some of the finer acts that the suburbs have seen in a long time, or at least since last year's festival. I only made it out to the festival on Friday night which featured a good selection of acts including Ohbijou, Kids On Tv, Laura Barrett, Baby Eagle and The Acorn. Other than Ohbijou who performed in the Rose Theatre, the rest of the acts I saw performed in the secondary space. The Rose Theatre is posher than most venues I've been to, and it was quite an experience to hear the orch-pop tunes of
Ohbijou
in these majestic surroundings. It was a shame that attendance wasn't anything close to capacity, and the crowd on-hand seemed quite comatose as a semi-enthusiastic response greeted the end of every song, followed by a eerie, awkward silence. I think it threw the band off because they really didn't know what to say between songs. It was my first time seeing Ohbijou live and while I enjoyed it on one level I think I'd have enjoyed them in a smaller, more intimate surrounding such as the secondary space where I saw the rest of the other acts during the night.
There was definitely a better vibe in the smaller secondary space. While the scale of the festival is admirable, I thought only a few of the acts(
Final Fantasy
being the most prominent) were capable enough to draw sufficient numbers to fill seats in the Rose Theatre. The secondary space stage was a mostly standing room area that was smaller and more intimate and for the night that I was there, had the better lineup. First act I caught that night were the electro-hip-hop-clash stylings of
Kids On TV
who for the most part weren't my thing, although I did think the last song of their set which was duet between one of the male vocalist and the female vocalist was totally sexy - it reminded me of that song that Iggy Pop and Peaches had sung. At one point during the set, a member of the group stripped down to his briefs and started to breakdance - it may have seemed like a joke initially, but on closer inspection I realized that he was totally sincere about it. Respect. Next up was the charming kalimba-playing, singing-about-Robot-Ponies-singing
Laura Barrett
. She encouraged everyone to sit on the floor for her set(even jokingly singling out someone at the back who was still standing up) and with her kalimba and a companion on stage who was playing a toy(?) glockenspiel the atmosphere of the moment made me feel like I was back in kindergarten. It was my first time seeing her perform, and I can see why people like her. The quirky instrumentation, a attractive singing style and her charming lyrics and melodies puts Laura in a class all of her own. She's so charming and she deserves a larger audience. Laura made a funny comment about her fondest memories of Brampton was biking away from it[referring to a charity bike trek from Brampton to Guelph she had took part in a year or two ago].
Baby Eagle
(solo project of
The Constantines
' guitarist Steve Lambke) was next and his Bob Dylan-esque troubadirian style was great. His rough-hewn vocals don't always seem to do his melodies and guitar strummings and arrangements justice but hey, if Neil Young and Bob Dylan can get away with, well you know. It was a mostly low-key set of acoustic strummings and a little harmonica but Steve did his best to rock out with his last song. The band I was most interested in seeing were Canadian music blog faves from Ottawa,
The Acorn
. They play delicate, intricate indie rock with great swooning melodies, topped off with the vulnerable-sounding vocals of their lead vocalist. I'd heard their song "Blankets" off the 'net, but live it just bowled me over. If I recall, "Blankets" was the last song of their set, and with the crowd on their feet, it was a triumphant set closer. I could have ended the night at this point, I decided to check out standup bass and harp duo of
Trevor Dunn
and
Shelley Burgon
whose experimental soundscapes were interesting but a little over my head.
So in all, a decent night of music. I wish I made it out to one or two of the other nights of the festival but it wasn't meant to be. Oh well. There's always next year. Whatever said above about the Rose Theatre, I do have to point out that the theatre is beautiful and I hope they'll book some good acts there in the future. Just a last mention, it was nice meeting Lidia of
torontoindie.com
.
Here are my
photos
from the show.
MySpace
:
Ohbijou
MySpace
:
Kids On Tv
MySpace
:
Laura Barrett
MySpace
:
Baby Eagle
MySpace
:
The Acorn