concert review
:
Canadian Music Week
in Toronto, March 9, 2007
1)
The Besnard Lakes
,
Rock Plaza Central
,
Wayne Petti
,
Woolly Leaves
@
Lee's Palace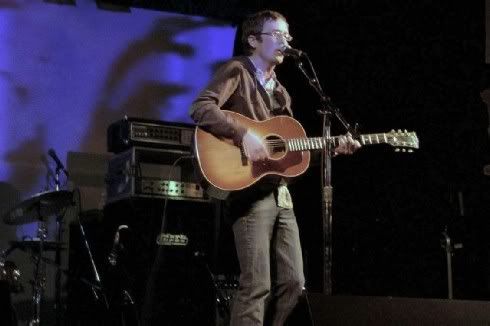 I'd unfortunately missed
Baby Eagle
's set and only caught a few songs of Woolly Leaves acoustic country-folk but did manage to catch
Cuff The Duke
's Wayne Petti's set in its entirety. I was already a fan of Cuff The Duke's brand of alt-country, a band who put an interesting spin on country music with an interesting, sometimes artier interpretation but always had a knack for writing a good melody. Wayne's solo material maintains that melodicism with great success. He even tried to get the audience along for a sing-along which he achieved with at least partial success. Torontonians might not dance but they can definitely sing.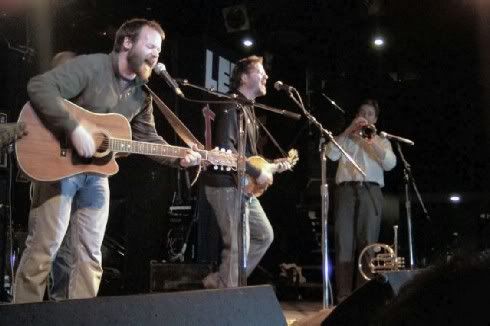 Rock Plaza Central definitely had a more energetic show this time around compared to their opening set for the Apples In Stereo at Lee's Palace a few weeks ago. They had the benefit of a 10 pm slot, and an energetic and appreciative crowd. The simple 3-chord melodicism of "Gutterdance" with the urgency in it's instrumentation and vocals was the highpoint of the set for me. The band's 3-way brass arrangements and background vocal harmonizing also were standouts as were the drummer's fluid playing and the violinist's lovely playing. At one point or another, every one in the band had their moment to shine. Best banter of the set: one of the brass playing members of the band who took the task of renaming everyone in the group using names of members from
Public Enemy
. I wonder if Public Enemy(who were in Toronto for CMW coincidentally) were in the audience if they would have found the joke funny.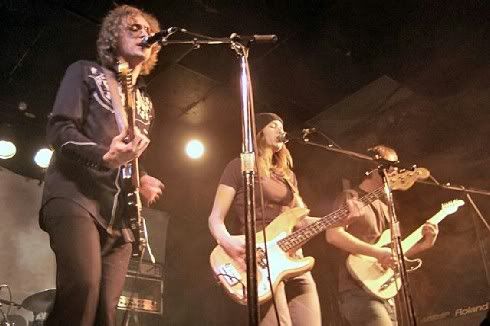 The Besnard Lakes performed a set of eerie-sounding rock-pop psychedelia, utilizing alternating male/female vocals from Steve Raegele's cool falsetto at times to Jace Lasek's sweet(but not too sweet) vocals. Definitely something I'd like to explore in the future. And having read reviews about the band's music(well the vocals, melodies) being compared to the Beach Boys, yes I did hear that influence but Besnard Lake's version was more eerie than I would have imagined.
Here's
the rest of my photos
from Lee's Palace that night.
2)
The Zoobombs
,
Mongrels
@
The Comfort Zone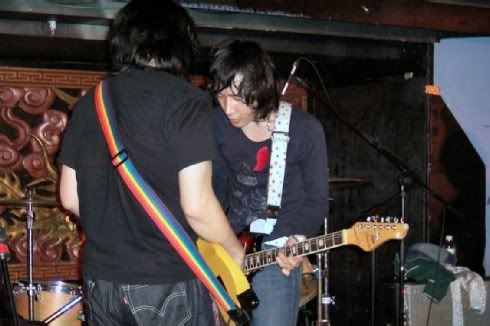 I rounded out the evening choosing to catch Dan Burke's show over at The Comfort Zone where I caught a portion of Montreal's Mongrels who played a devasting set of rock riffage led by the Janis Joplin-esque vocals of their female frontperson who wore a satin-y black/white/grey patterned dress with long black boots. Closing out the evening were Japan's The Zoobombs who didn't let the Mongrels upstage them in the least. I'd say that The Zoobombs played a much more varied sounding set this time compared to the times I'd seen them live in the past, going from garage rock, to funky jams, to something which almost aspired to hip-hop and even a song that closely resembled melodic indie rock. The Zoobombs only played about an hour with no encore, but since it was getting late I couldn't really blame them.
Here's the rest of
my photos from The Zoobombs' set
that night.