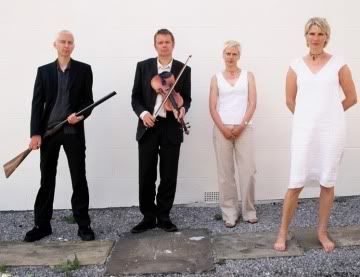 OMG,
Chumbawamba
are coming to the
Hillside Festival
in Guelph, ON taking place this July! According to the band's
MySpace
they'll be at Hillside on July 27. Other Canadian dates include the Calgary Folk Festival on July 28 and the Canmore Folk Festival on August 4. Although I have a few of their CD's, off the top of my head, I'd be hard-pressed to name any of their songs other than
"Tubthumping"
or their heartfelt acappella song
"The Day The Nazi Died"
but I must say I've always enjoyed the vocals of the band's female vocalists in particular. Their political bent might be interpreted as heavy handed, but when they wrap their songs with such terrific melodies they are hard to resist. I haven't thought about them in ages but the songs they currently have featured at their MySpace show that they haven't been resting on their laurels. Apparently now down to a four-piece, their lyrics are as biting as ever like in the 1950s-ish sounding "Tony" which utilizes the lyrical format of doo-wop to criticize British PM Tony Blair. Even if I'm not attuned to the historical background of "Smith and Taylor" off the band's 2006 album "A Singsong And A Scrap", there's no doubting the song's irrestible melodies and vocals. According to their MySpace, Chumbwamba also have a recently released live album entitled "Get On With It" which features the band's allegorical tale against consumerism entitled "Buy Nothing Day".
Canadian Tour Dates
:
-
Jul 27/2007
-
Hillside Festival
(Guelph, ON)
-
Jul 28/2007
-
Calgary Folk Festival
(Calgary, AB)
-
Aug 04/2007
-
Canmore Folk Festival
(Canmore, AB)
MySpace
:
Chumbawamba
YouTube
:
Chumbawamba - Bankrobber (Clash cover - live)
YouTube
:
Chumbawamba - Coal Not Dole (live)
YouTube
:
Chumbawamba - The Cutty Wren (live)
YouTube
:
Chumbawamba - On Ebay (music video)
YouTube
:
Chumbawamba - She's Got All The Friends (music video)
YouTube
:
Chumbawamba - Tubthumping (music video)
Lyrics
:
The Chumbawamba Lyrics Page