concert review
:
Under Byen
,
Frida Hyvönen
,
Ohbijou
(part of
Canadian Music Week
) @
The Mod Club
(Toronto, Ontario), March 8, 2007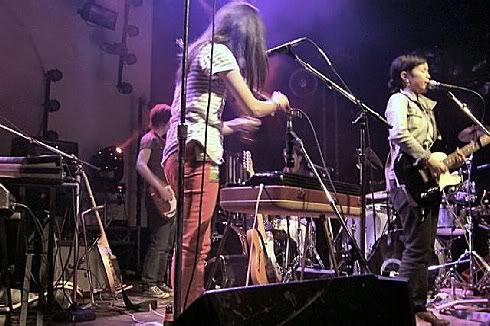 It was much nicer to see
Ohbijou
on a smaller stage, but then heck anything smaller than the Rose Theatre in Brampton
when I last saw the band
was bound to be better. To be up close and to have their dreamy pop tunes(augmented by strings, horns, guitar, keyboards and Casey's swooning vocals) wash over you is wonderful. There was some interesting percussion like when a member of the band started tapping out rhythms on a what looked like part of an air vent. Thankfully, there was some banter from Casey, even her mentioning that it was International Women's Day and prompting a shy 'woo' from her. I still think the band have to work on expressing more emotion on stage, maybe smile more often, but I guess I can't fault them for concentrating on creating good music. And the rush I get every time I hear "St Francis" in all its orch-pop glory is unsurpassed.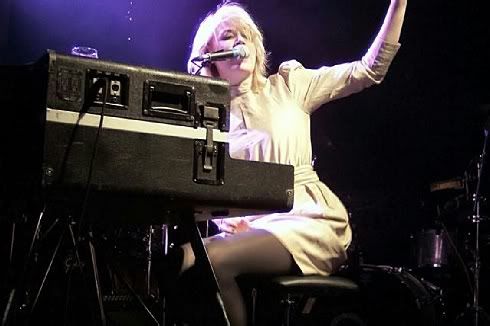 Previous to the show, I'd probably only heard a song or two of Sweden's
Frida Hyvönen
(her record "Until Death Comes" released through
Secretly Canadian
) and hadn't given it a second thought but I'll say live, just her and her electric piano, she puts on an entertaining show. Protypically Swedish, she is blonde and leggy and even if she gave off a certain eccentric/flaky vibe, there was no doubt that when she wants to she get's in a zone and expresses a lot of sincere emotion in her vocals and piano playing. The obvious(but also quite appropriate) comparison is
Tori Amos
, as Frida's vocals/piano playing were infused with a dynamic quality. But if Tori was/has been accused of a certain pretentiousness at least in her vocals, Frida's are far less affected but passionate nonetheless.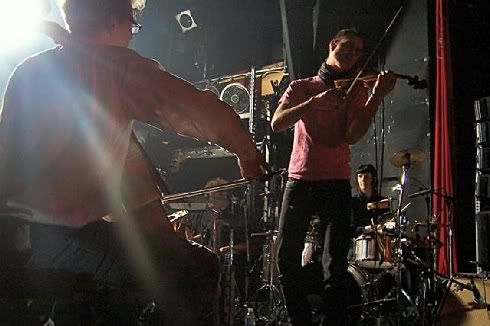 Topping off the evening in fine fashion was Denmark's
Under Byen
(signed to
Paper Bag Records
) in Canada. There was a smorgasbord[ok, it's a Swedish term, I know] of musical influences in their music that at various times reminded me of
Sigur Ros
[instrumentation],
Bjork
[vocals] and trip-hop[rhythms]. I see that me and
Eye Weekly's Liisa Ladouceur
were on the same wavelength. I wish their vocalist would stand out at the front of the stage though rather than being flanked by the band around her, but it was a interesting setup. The double drumkit setup(with a male AND female drummer) to the right of the stage was spectacular. Overall, the way the vocals, percussion, strings, keyboards, and other instrumentation came together combined with the great screen projections / light effects was simply amazing. According to their
setlist
, they only played eight songs, but over the course of an hour it was a more than satisfying introduction to the band.
Here are
my photos
from the entire night.
Check out
Chromewaves
for his review and photos.
Update
:
Chartattack
graded
Under Byen
,
Frida Hyvönen
, and
Ohbijou
's performances.
MySpace
:
Ohbijou
MySpace
:
Frida Hyvönen
MySpace
:
Under Byen