concert review
:
My Latest Novel
@
Horseshoe Tavern
(Toronto, Ontario), March 12, 2007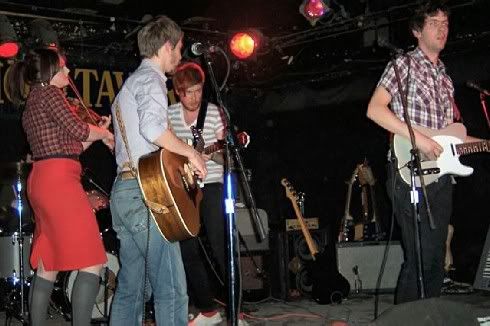 Prior to Clinic's set at Lee's Palace a few nights, earlier that night I checked out Scotland's My Latest Novel at Horseshoe Tavern. With my
CMW
schedule last week already picked out, I missed the band's headlining set at The Drake on March 9. They were booked to play a late night headlining set at Kathedral on March 10 and I'd headed to the venue that night after The Pipettes show at Rivoli only to find out My Latest Novel's set had been cancelled. Ultimately, everything came down to me catching My Latest Novel at the Horseshoe on Monday night. Fortunately I was able to see them on Monday night and even though it was only a half an hour set it was so totally worth it. With the pastoral vocals of lead vocalist Chris Deveney over the exquisite folk-pop instrumentation, the songs melodies revealed themselves beautifully. For many of the songs, violinist Laura McFarlane's pretty violin arrangements were in my opinion a central part of their sound, while keys and xylophone fleshed ou the sound further. While My Latest Novel are purveyors of the great Scottish pop traditions they also utilized somewhat less pop conventions like spoken word verses and extended gradually louder codas. The band performed songs off their debut album "Wolves"(
Bella Union
) but also introduced at least one new song which unfortunately I don't recall the name of although it likely could be "I Declare A Ceasefire" or "If The Accident Will" which were a couple of new songs the band played in Aberdeen, Scotland recently and which will be included on the band's second album according to a
post at their MySpace
. Not necessarily grandiose(thankfully), but very much expressive, My Latest Novel make pop songs that make one feel.
Here are
my photos
from the show.
MySpace
:
My Latest Novel
:
:
Concert Announcements
:
Jun 8/07
-
Dinosaur Jr
@ Phoenix (onsale Mar 17/07) via
Ticketmaster.ca