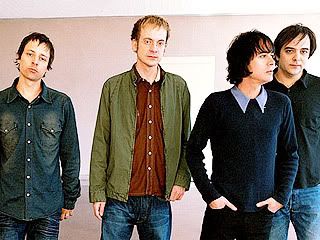 In support of their new album "Traffic and Weather" which is being released on April 3,
Fountains of Wayne
are going on tour, stopping in Toronto for a show at Lee's Palace on June 10. You can
pre-order
the album right now - you can also check out 30 second song clips from the album through that pre-order link or else check out a full-length song["'92 Subaru"] from the album over at their
MySpace
.
Billboard
spoke with Carl Newman of
The New Pornographers
about the band's 'epic' follow-up to their last album "Twin Cinema" and reports that the band's new disc is scheduled for a release through
Matador Records
in late August.
According to
Art & Crafts
,
Apostle of Hustle
will be at
Lula Lounge
in Toronto on Friday May 18.
Ms.
Neko Case
guest DJ'ed on
World Cafe
this past Friday March 23/07 but you can catch a short segment of the show which is streaming over at
NPR
where Neko discusses her love for African American gospel singer
Bessie Griffin
.
Some live concert footage of
Phoenix
is currently being featured over at AOL Music's
Spinner 3X3
.
Y'know spring's in the air when
Brooklyn Vegan
's posting about NYC's upcoming summer concert season. And as I've
said
before
, I can only hope Toronto's is just as good.