concert review
:
Junior Boys
,
The Russian Futurists
@
The Mod Club
(Toronto, Ontario), April 6, 2007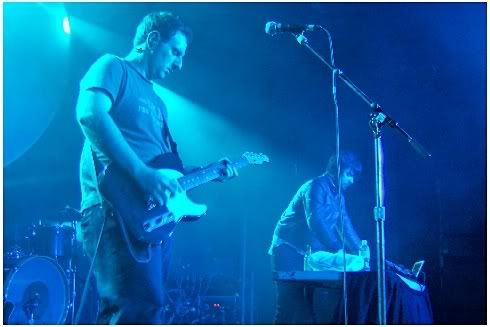 This past Friday The Mod Club hosted a sold-out night of heady, danceable, pop music from Hamilton's Junior Boys and Toronto's The Russian Futurists. I'm assuming the bands are good friends because
both bands also played in Toronto last September 2006 at El Mocambo
. That time, I'd only caught a few songs from
The Russian Futurists
' set but my interest had been piqued. This time around, they definitely solidified my respect for their music. The Russian Futurists' Matt Hart wore a ship captain's cap providing a hint to the Futurists' musical eccentricities. With four keyboards, some added guitar, topped off with Matt Hart's idiosynchratic vocals, there was a denseness to the Futurists' sound, like a collision between orchestral, hip-hop and pyschedlic influences. Somehow it all worked. The more I listen to them, the more they remind me of a remixed version of The Flaming Lips. Simplistic as that description is, they are much more than that. The minor disappointment I had during the set was that Matt, at one point, introduced their next song as a 'rap' song although it turned out not to be 'rap' at all.
Things haven't much changed in
Junior Boys
live show since I last saw them. Jeremy Greenspan and Matthew Didemus thankfully still have in tow a drummer for their live shows, adding a much needed boost of energy to their live set. The gentlemen were more casually dressed this time around and gone is the neon "Junior Boys" sign on the wall behind them which they'd featured prominently during their last show at the El Mocambo. A major disappointment for me this time around was that I could hardly hear Matthew's keyboards so I felt a bit deprived of the full glory of songs that featured prominent keyboard licks like in "Like A Child" and "In The Morning". The set was a good mix of songs between "Last Exit" and "So This Is Goodbye". The most sublime moments of the night for me was the sensual beats of "So This Is Goodbye" and Jeremy's smooth-as-butter enunciation of "And You Hold Me, Like A Child" during "Like A Child". It's good to see them making strides with their on-stage comfort level with Jeremy even leading the crowd into some participatory handclapping. If you missed them this time around you'll be glad to hear that according to what Jeremy mentioned during the show, they'll be back in Toronto, again at The Mod Club, with
Born Ruffians
on June 8 or 9.
My photos from the show to come.
Pitchfork
has an audio stream of a
Carl Craig
remix of Junior Boys' "Like A Child". Not nearly as good as the original.
MySpace
:
The Russian Futurists
MySpace
:
Junior Boys
:
:
The Toronto concert season continues to flourish. Toronto's
Barzin
will be at
This ain't the Rosedale Library bookstore
on April 24 as part of a book launch for author Rick Crilly - I don't have any details for this, nor know if this is a solo or full band performance. Promoting her new album "Saltbreakers"(to be released on
Nonesuch Records
on March 26 in Europe and April 10 in North America),
Laura Veirs
with openers Olympia, WA's
Lake
will be at El Mocambo on May 12. A few song's from Laura's new album are currently streaming over at her
MySpace
. Los Angeles'
Eleni Mandell
with opener Toronto's
Justin Rutledge
promise a night of quality music at The Mod Club on May 16. The upcoming
Beach House
/
The Clientle
show originally scheduled for Lee's Palace has now been moved to El Mocambo on June 4. Sometimes
Zero 7
vocalist, but also solo artist in her own right, Denmark's
Tina Dico
will be in Toronto for a show at The Drake Hotel on June 19. Currently
working on a new album
, she's also keeping
diary
of her goings ons - and it's a thoughtful and well-written diary I might add. Looking forward to Canada Day(July 1),
Sean Lennon
has a show booked at the Phoenix. Edmonton's
Shout Out Out Out Out
will be at Harbourfront on July 7 as part of the
Beats, Breaks and Culture Festival
and will also be at the
Hillside Festival
in Guelph July 27-29.
If you can't wait for the official May 22 release of the new remix album of
Stars
' songs entitled "Do Your Trust Your Friends?", well then check out
BlogJangles
who's linked to several other sites which have mp3's of songs from the album.
Neko Case
recently appeared on American radio program
Sound Opinions
.
Minneapolis Fucking Rocks
links to mp3's of three songs("Margaret Vs. Pauline", "That Teenage Feeling", "Sometimes When I Get To Thinking") that Neko performed on the show live.
Preview some tracks from the upcoming
Feist
album "The Reminder" over at
Discover Feist
, where you can also
freely download
a track["So Sorry"] from the album - however, you'll have to register for the newsletter in order to download the track.