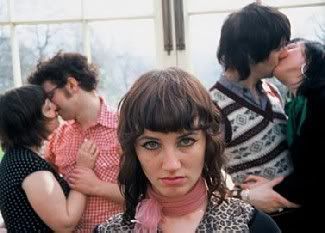 I've been sampling the terse, post-punk-pop of UK's
The Long Blondes
lately and am quite enjoying it, especially the vibrant vocals of their lead vocalist Kate Jackson - I'm loving the exuberant pop of their song "Once And Never Again" which you should check out at their
MySpace
. Somewhat unfortunate that the band went so long(relatively speaking) without a North American domestic release but that's changed as
Pitchfork
reports - the band's album "Someone To Drive You Home" released last year in the UK through
Rough Trade
will be released in North American on June 5 through
The Beggars Group
. Further Pitchfork says that the band plans to support the album in North America with a brief tour in June followed by a more extensive one in September. Toronto, please come to Toronto.
With a little more elbow space now, the
CSS
/
Datarock
show for June 4 has been moved from Horseshoe Tavern to Lee's Palace. This is going on my maybe list. [via
Outside Music
]
According to
Chartattack
, the next album by
The Concretes
entitled "Hey Trouble"(which is already out in their home country of Sweden) will come out in the UK in June and will see a North American release this summer. And as Chartattack points out what the band wrote on their MySpace recently,
"Lisa is still doing most of the drumming too, but live they're gonna get a drummer in, to steer clear of any Phil Collins jokes.)"
Ha, ha. Also, check out the band's new
message forums
over at their website. As all good bands should do, always play your home town(home country) - The Concretes have tour dates in Sweden this month and next, but nothing's on the horizon for North America and the rest of the world. Yet.
I should really buck up on post-punk forefathers
Pere Ubu
(considering I own at least several of their albums but haven't listened to them much).
Chartattack
reports that the band's midperiod albums "The Tenement Year" (1988), "Cloudland" (1989), "Worlds In Collision" (1991) and "Story Of My Life" (1993) are being reissued in expanded versions by Mercury Records on April 17.
The indiepop-loving
Skatterbrain
points out that
Saturday Looks Good To Me
's next album entitled "Fill Up The Room" will be released in September through
K Records
in the U.S. and
Popfrenzy
in Australia. Check out the band's new
website
design also. The band heads off to Europe in May for some tourdates; let's hope for some North American dates this summer.