concert review
:
Great Lake Swimmers
and friends (early show) @
Church Of The Redeemer
(Toronto, Ontario), April 14, 2007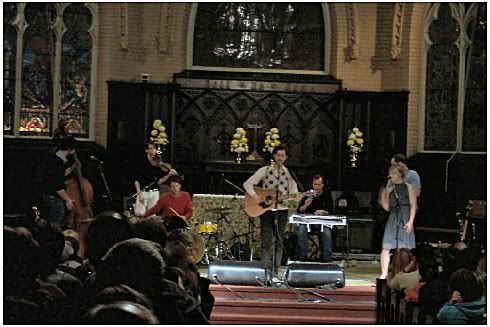 Capping off the Canadian leg of their current tour(which takes them next to Europe), Toronto's Great Lake Swimmers with a few special guests performed two immaculate shows(well, I'll vouch for the early show) Saturday night at Church Of The Redeemer in Toronto. It was my first time seeing a show in Church of The Redeemer which is a quaint, old church situated in downtown Toronto, conveniently off the subway line. Fortunately, I made it down to the church just before the show got started although on the other side of the coin, the pews and chairs were packed like if it were Easter Sunday. There were a few of us that ended up having to stand, so I made the best of it and stood at the back, situating myself almost directly in front of the centre aisle. Come to think of it, my view was fairly good - at the very least, my view was probably better than that of the people who were sitting down near the back who had to look over people's heads.
On deck for the show were of course head Swimmer Tony Dekker, with Erik Arnesen(banjo/guitar), Mike Overton(upright bass), and Colin Huebert(drums/percussion). The friends that night turned out to be Owen Pallett(aka
Final Fantasy
) on violin, pedal-steel extraordinaire
Bob Egan
, and the lovely Ms.
Basia Bulat
who provided some gorgeous vocals to the night, as well as
Andy Magoffin
manning the soundboard at the back of the church near where I was standing. Through roughly an hour and a quarter's set of material Tony Dekker performed his set through a variety of configurations. There were awesome full-band performances like set-opener "Your Rocky Spine", "I Am Part Of A Large Family" and "Moving Pictures, Silent Films"(a strikingly beautiful song already made even better by Basia Bulat's lovely vocal touch). Tony performed several numbers solo including the song he came back to the stage for the encore. Quite possibly the most sublime song of the night was the trio performance of "To Leave It All Behind" which featured some spare upright bass(courtsey of Mike) and violin(courtesy of Owen) accompaniement with Tony's guitar and fragile vocals.
At times the performance was a bit sleepy, although the band and Tony did make small efforts to keep the audience's interest. I was rather taken by the punctuated guitars of new song "Put There By The Land" off "Ongiara"; it's maybe the closest I've heard Great Lake Swimmers to rocking out. Maybe they'll even introduce some guitar distortion on future releases. A few times Tony Dekker in his shy way made an effort towards banter - humourous things like introducing "I Am Part Of A Large Family" as a song about being part of a large family(well duh!), or the interesting story about him living in Toronto or the first time, getting a job at a film company downtown and commuting the same four subway stops for a period of time which led him to integrating those subway stop names("Spadina", "St. George", "Bay" and "Yonge") into the lyrics of his song "I Will Never See The Sun"). Maybe it's no coincidence that Tony chose to end the Canadian leg of his current tour at Church Of The Redeemer which is located off the subway line between "St George" and "Bay".
I was rather disappointed that there was no sort of creative, mood lighting utilized at all although I could understand that maybe the church wasn't equipped for such things. The lighting was probably beneficial to those taking photographs and were up close but from my vantage point at the back of the church the lack of mood lighting was a disappointment considering how much Great Lake Swimmers music might have benefitted from it within the church's glorious surroundings. It was good news to hear from Tony that the evening(well at least the early show) was being recorded by
CBC Radio
, presumably for radio broadcast but hopefully also for a live album release if we could be so lucky.
NOW Magazine
speaks with Great Lake Swimmers' Tony Dekker about the collective vibe that permeated the recording of the band's newest album "Ongiara".
MySpace
:
Great Lake Swimmers