Andrew Bird @ WFUV (image capture from The Alternate Side)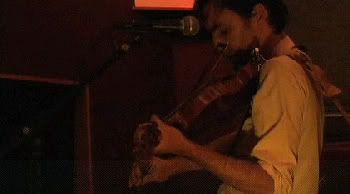 Andrew Bird
performed live on Late Show With David Letterman a few nights ago.
Take a gander at him performing "Fitz & the Dizzyspells"
. Andrew performed the same song at Electric Lady Studios
for WFUV
. Andrew performs live in Toronto at Queen Elizabeth Theatre on April 3. Andrew's new album "Noble Beast" is out now.
I'd planned to post about these over the last few days, but was so pooped. By now you may have read about these
on
Chromewaves
:
-
Crooked Fingers
are scheduled to open for both
Neko Case
shows(April 17-18) at Trinity St. Paul's.
- the experimental pop stylings of Danish group
Efterklang
take over the El Mocambo on April 1, tickets $10
- and most excitingly, UK postpunkers
White Lies
who
currently have the number one album in the UK
will be at Lee's Palace on March 31 with
Friendly Fires
and
The Soft Pack
. Via
The Windish Agency
.
As previously announced, Toronto's
The Diableros
play the Wavelength afterparty at The Cameron House on February 12 and according to
Outside Music
are scheduled to perform(as "Tropical Pets") opening for The Von Bondies at the Horseshoe on February 13. They're playing Marcello's in Mississauga on January 30, Guelph at Wally's on the 31st and are back in Toronto for a show at the Horseshoe Tavern with
The Coast
on February 28.
From The Jam
pump out the hits at Lee's Palace on March 27. Via
Against The Grain
.
Ariel Pink
and
Duchess Says
are at the El Mo on March 30, tickets $10. Via
rootmeansquare
.
Howie Beck
has a show at The Mod Club on April 1, tickets $12. His new album "How To Fall Down In Public" is out February 24.
The English Beat
are
celebrating their 30th anniversary
with a tour of course and will be at Lee's Palace on April 17. They'll also play shows Waterloo at The Starlight Room on April 16 and London, ON at Call The Office on April 18. Full dates over at their
MySpace
.
Marissa Nadler
and
The Handsome Family
are at El Mocambo on April 21. Via
High Road Touring
.
Bell Orchestre
play the swanky The Courthouse on April 24, tickets $15. Via
rootmeansquare
.
Shout Out Out Out Out
bring it to Lee's on April 25 to promote their new album "Reintegration Time". Via
Against The Grain
.
Bruce Springsteen & The E Street Band
will rock the Air Canada Centre on May 7. Via
Pollstar
. The Boss' new record "Working On A Dream" is out now. For some Springsteen goodness check out Ted Leo's really good cover of "Dancing In The Dark" over at
Pitchfork
.
BSS' Charles Spearin's new project
The Happiness Project
have 2 shows planned for The Music Gallery on March 11 and 12. Tickets $20 each.
Laura Barrett
opens the first show while
Muskox
is the support for the second. Via
Eye Weekly
.
Stereo Total
w/
Leslie and the Ly's
are at Lee's Palace on March 21, tickets $13.50. Via
Eye Weekly
.
Jon-Rae Fletcher
has a planned instore at Criminal Records on March 14, time still to be confirmed. Following the instore he'll be at Lee's Palace later that night for a CMW showcase along with Cuff the Duke, Basia Bulat, The Acorn and Herman Dune. Also catch Jon at the Horeshoe on March 7 with United Steel Workers of Montreal. [via
Criminal Records MySpace
]
Chartattack
points to a link of
Bon Iver
performing a live
Feist
cover of "The Park" for a recent live session for Australian radio station Triple J.
Chartattack
also has the entire new
In-Flight Safety
album "We Are An Empire, My Dear" streaming. Like their music player interface, btw.
And also from
Chartattack
, they report that the new
Metric
album is entitled "Fantasies" and will be out on April 14 in Canada through Last Gang. If you preorder the new album from the
band's website
, you'll get a free mp3 of the first single "Help I'm Alive", currently which you can hear on the band's
MySpace
. If free is your thing, head over to the band's website and in exchange for your e-mail address you can download an acoustic version of the first single. More electric-synth-y goodness from Metric as you'd come to expect.