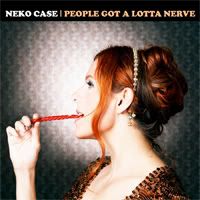 It's an interesting method of fundraising that
Neko Case
has chose to raise money for charity
Best Friends Animal Society
- for every blog post that reposts her new song "People Got A Lotta Nerve" (off her upcoming new album "Middle Cyclone" out March 3) and/or
iLike
user who adds it to their profile, Neko and her label ANTI- will make a cash donation of $5 to the charity. The promotion runs from January 13 to February 3, 2009, so everyone step to it. It's another stellar swooning track from Neko, not quite country, not quite pop - I love how she sings,
"I'm a man-, man-, man-, man-, man-, man-eater"
. Oh yes you are, Neko, oh yes you are.[photo from
ANTI-
]
MP3
:
Neko Case - "People Got A Lotta Nerve"
And with that bit of charity, Neko also spoils us with some upcoming tour dates, with not one but two dates planned for Toronto, April 17 and 18 at Trinity St. Paul's Church. Tickets onsale now, $33.50 a piece.
If my media accreditation for the upcoming
Canadian Music Week
comes through, perhaps it'll allow me access to the festival's film festival component "Music For The Screen" a day-long series running at the NFB Cinema on March 14. The
film line-up has now been announced
with highlights including the Toronto premiere of the science fiction musical from Wayne Coyne and
The Flaming Lips
entitled
"Christmas on Mars"
and a documentary,
"Anvil! The Story of Anvil"
on Canadian cult metal icons
Anvil
, who'll also be performing during the festival and be inducted into the Independent Music Awards' Indies Hall Of Fame. Tickets to the film festival are $10.
A bevy of Toronto tour dates have rolled in over the past week (some of which
Chromewaves
has
covered
) and highlights include:
-
Cuff The Duke
,
Castlemusic
@ Harbourfront Centre (Lakefront Terrace), January 31, free show (via
Stille Post
)
- Power-pop legends,
Paul Collins Beat
@ Sneaky Dee's, Feb 3 (via
Stille Post
)
-
Jon Langford
with
The Sadies
(as his backing band) @ Horseshoe Tavern, February 27, tickets $12.50
-
Asobi Seksu
@ El Mocambo, March 3
-
Chartattack
CMW showcases (too many bands to list here) @ Horseshoe, March 12-14 (via
Stille Post
)
-
Peter, Bjorn and John
w/
Chairlift
@ Phoenix, April 25 (via
Brooklyn Vegan
)
-
Animal Collective
@ Sound Academy, May 16
-
Joel Plaskett
@ Massey Hall, May 23
NME
posts a remix by Eli Escobar of local electro-rock act
Thunderheist
's song "Sweet 16". Thunderheist and
Shad
will be playing live at Nathan Phillips Square on January 31 as part of the
WinterCity Festival
. Thunderheist's new album is out March 31.
And the repercussions of jumping up onstage unannounced during
Oasis
' Toronto Virgin Festival set last September and tackling Noel Gallagher from behind -
NME
reports that Canadian Daniel Sullivan's charge has been upgraded from assault to aggravated assault and could be looking at 14 years in prison if convicted with the maximum sentence. Sucka.
It's with great anticipation that Barrie's
Fox Jaws
have returned with some local dates. Bob at
It's The Band I Hate, Not Their Fans
reviews their show from yesterday night at Sneaky Dee's, pointing out that it was their first for
Nevado Records
the band's new label. Fox Jaws have a few more local dates lined up with a Valentine's Day show at El Mocambo then a show at Clinton's on March 5.
And what is it with vocal surgery these days? First,
Land of Talk
's Elizabeth Powell is set to go in for vocal surgery at the end of this month and second, as Bob points out, Fox Jaws' Carleigh Aikins recently underwent the surgery. Our Canadian girls rock hard.