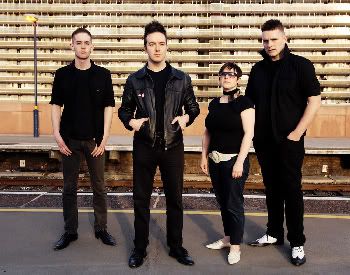 Scottish quartet
Glasvegas
just released their debut self-titled full-length this past week domestically but I've been listening to a promo for the last month now. Even before I'd read things like
Creation Records
/
PopTones
head Alan McGee, heralding them "
The most exciting thing I've heard since Jesus and Mary Chain
" or the BBC saying that the band
"...draw on rockabilly and pop from the 1950s and '60s, using a backdrop of brooding guitars to create their own wall of sound, a bit like the Jesus and Mary Chain playing the 'Grease' soundtrack
", my initial impressions that the band dabbled in a 60's-ish pop sound combined with
JAMC
's wall-of-sound were already quite evident. Although, perhaps early JAMC's wall-of-sound aesthetics sounded a bit like they were filtered through a tin can, Glasvegas go for broke with a much clearer production, and glorious waves of guitar, bass and drums combined with vocalist James Allan's attractive emotive Scottish drawl leading things along more than competently. Glasvegas sound big, fit for stadiums or big halls, much in the same way that
Oasis
approaches their influences with a large robust sound. Lyrically, there's a few missteps, but I find myself better able to handle them the more I listen to the album. I'm looking forward to seeing them when they come to Toronto for a just-announced show at The Mod Club on April 3,
tickets onsale January 10
. They performed on Late Show With David Letterman a few nights ago and will perform on Late Late Show with Craig Ferguson on January 15. [photo courtesy of
William Morris Agency
]
MySpace
:
Glasvegas
Video
:
Glasvegas - "Geraldine" (live on Late Show with David Letterman)
Brooklyn Vegan
informs that
Femi Kuti
has cancelled all upcoming tour dates in February (including a Toronto date at The Opera House that had been scheduled for January 15) due to illness.
Canoe
indicates that
Tokyo Police Club
have a date at Metro Toronto Convention Centre on April 4. The
venue site
indicates that the event taking place that day is a Teen Consumer show. Anyone know what that's about.
NME
reports that
The Watson Twins
are kicking off a North American tour on February 16 to support the release of their newest album "Fire Songs". The tour stops in Toronto for a show at The Mod Club on February 22.
Attack In Black
post at their
Myspace
that they along with
Baby Eagle
and
Shotgun Jimmie
have started a new record label which will be releasing Shotgun Jimmie's new album "Still Jimmie" on March 10. A
MySpace post
over at Shotgun Jimmie's page says that the new record label imprint is called "You've Changed". Over at
CBC Radio 3
, they report that Attack In Black and Baby Eagle will be doing a split LP (perhaps being released on their new label I guess?). Attack In Black will be covering Baby Eagle's "Some Things We Lose".