Junior Boys (photo from KindaMuzik)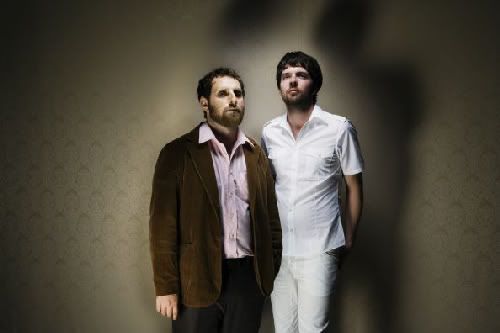 Their last album
"So This Is Goodbye"
was released in Canada way back in August 2006 and was shortlisted for the 2007
Polaris Music Prize
. The last time I saw them perform live was in
April 2007 at The Mod Club
. They
played Coachella
at the end of that month and have seemed to be on tour non-stop since then, rarely coming around these parts it seems for a few years now. However, as
Kat
had pointed out, Junior Boys have a new album coming out in March and it's
now confirmed by the guys themselves
- the new 8 track long album is entitled
"Begone Dull Care"
and is going to be released in Canada on March 24 with a US release to follow on April 7. The first single will be
'Hazel'
which will be released in both 12" and digital formats. Now a transatlantic partnership with Jeremy Greenspan still based in Hamilton, Ontario and the newly-married Matthew Didemus now living in Berlin, they spent most of 2008 focusing on the completion of the new album. As I mentioned last week, also look forward to Junior Boys' remix contribution to the
Merge Records
remix CD coming out (to
SCORE!
subscribers only) later this year.
An extensive six-week long tour is suppose to kick off in Toronto (at a venue TBA) on March 28 and they'll be joined by
Domino
roster-mates
Max Tundra
. Thanks to
Pitchfork
for the heads up.
So I've been listening to their first couple albums today and I almost forgot how scintillating their electro-pop really is. I'm looking forward to the new album, and if the YouTube link below (of a live performance of first single
'Hazel'
) is any indication, it should be a good one.
MySpace
:
Junior Boys
Video
:
Junior Boys - "Hazel" (live @ 2008 Tim Festival, Brazil)