Land of Talk @ Horseshoe Tavern (Jan 15, 2009): photo by Michael Ligon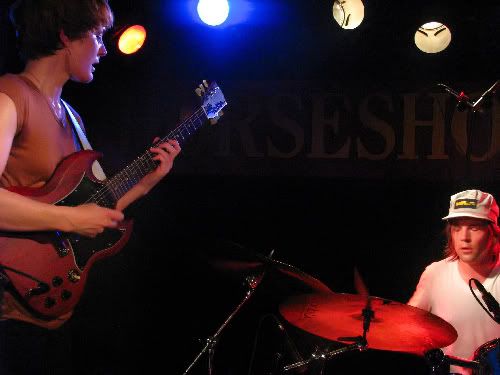 concert review
:
Land of Talk
,
Zeroes
, Little Scream @
Horseshoe Tavern
(Toronto, Ontario) - January 15, 2009
A Montreal musical invasion took over Horseshoe Tavern on a blistery cold Thursday night last week. On the heels of their latest album
"Some Are Lakes"
, Land of Talk made good on a promise to reschedule a previously cancelled Toronto date, and heck no one counted their recent opening set for Broken Social Scene at Sound Academy as a proper substitute. A couple of unknown entities (to me at least and I assume to others) opened up the night giving some proof that perhaps Montreal has not fully tapped it's musical talent pool yet.
The so-obscure-she-doesn't-even-have-a-MySpace first opener female artist who goes under the name
Little Scream
opened up the night at a point where the Horseshoe had already filled up respectably for an early time slot. I arrived part way through the set though what I'd heard was intriguing enough. Singing with a stark vocal quality that reminded me of Cat Power, there was a rocky folkiness to the lone guitar instrumentation. The cool blue light that draped her person was in a way appropos - the music didn't evoke much warm tones. Performed with a little more dramatic flavour than your average singer songwriter chick, I think she'll appeal to fans of
Cat Power
,
PJ Harvey
, and Toronto's own
Katie Stelmanis
.
Young four-piece
Zeroes
looked like the sort of lads that you might expect to be your run-of-the-mill indie rock but surprisingly distill a range of influences that you wouldn't expect from a band that young. There music wasn't really pop at all but there was still an accessibility. A solid rhythm section kept things structured while the music had an experimental, post-punk, progg-ish quality reminding most of a less gimmicky
Clinic
. First impressions are important and I'll admit that Zeroes do make a decent one.
One has to admit that it was mighty decent of Land of Talk's Elizabeth Powell to go on with (rather that cancel again) the Toronto date of the band's tour which touched down at the Horseshoe last Thursday, especially considering that she'll be
undergoing voice surgery at the end of the month
. Her performance last Thursday didn't necessarily point towards any vocal problems, her raspy robust vocals being as delicious as ever, but such satisfaction comes with a slight of level of guilt, at times during the set I was hoping that Ms. Powell wasn't overdoing it at the expense of any permanent damage. Elizabeth, come back from your surgery stronger than ever. Their debut EP
"Applause, Cheer, Boo, Hiss"
, a release I've admired for quite some time now, was mined generously for their set, as was their debut full-length
"Some Are Lakes"
which I've only really delved into with more effort recently. While the difference between the two might be that the raw visceral quality of their debut EP has been toned down ever so slightly for their full-length, the full-length does manage to continue their streak of scruffy pop songs enveloped within a simple yet robust rock guitar/bass/drums sound. Not a guitar solo to be heard, with only slight forays into simple guitar melodies and arrangements, Ms. Powell's casual guitar playing amplified with a little crunchiness is as perfect a compliment to her raspy vocals, neither one ever overshadowing the other. Wasting little time with banter, the set and encore went by quick, though it was long enough to quell any disappointment. By the time the band walked off the stage, most of us were melting, perhaps a little to do with the body heat and the heating in the venue, but let's not underestimate Land of Talk's contribution.
Photos
:
Land of Talk, Zeroes, Little Scream @ Horseshoe Tavern (January 15, 2009)
MySpace
:
Land of Talk
:
:
New all-ages event
"Dapslove Presents: All Ages"
promises to organize indie rock shows every other month to take place at
Rolly's Garage
on
Ossington
. The
first one took place last weekend
.
Pitchfork
reports that
Final Fantasy
, as well as
Johnny Marr
, contributed to the latest
Pet Shop Boys
album entitled
"Yes"
to be released in Europe on March 23 with a US release date still to be confirmed.
REMG
confirms that
K'NAAN
has a date at The Mod Club on February 24. His new album
"Troubadour"
comes out February 24.
Globecat
has an interview with
Love Is All
's Josephine Olausson.