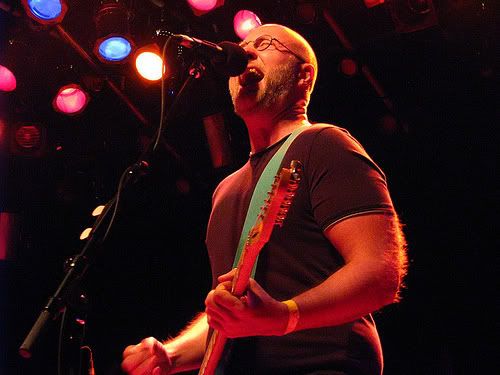 Update[Oct 13/09, 11:50 pm]:
review now up, and only a week later!
Kicking off his brief North American tour in Toronto last Monday night at
The Mod Club
before he heads over to the UK in December was Mr.
Bob Mould
promoting his new album "Life and Times". I was first and foremost a fan of his through his band
Sugar
in the 90's and it was only laziness really that stopped me from exploring his
Husker Du
and solo work with any sort of eagerness. With hopes I'd hear a few Sugar tunes and maybe a familiar Husker Du song or two I eagerly awaited Bob's set.
It's expected that Monday night shows are sometimes a hard sell but I thought that perhaps Mr. Mould would have drawn out a larger attendance. By no means was it empty by the time Bob and his drummer and bassist hit the stage but neither was it sold out. That said, for opener
Miles Benjamin Anthony Robinson
the attendance was sparse. I'd only caught the tail end of Miles' and his band's set, but my impressions of the 25-year old Brooklynite's music are at best vague. A little raggedness in its folk-rock instrumentation? Perhaps a little Bob Dylan influence? I enjoyed the samples on Miles' MySpace much better than the few songs I caught live which for some reason I remember being a bit more plodding. Perhaps next time.
If Mr. Mould proved anything at his show at The Mod Club last Monday night, he's maintained a relevancy with his songs that shall never go out of style. Drawing out to the show fans that visibly were fans of his back in his Husker Du and Sugar days and younger music fans who I'd assume had an appreciation for his old songs and perhaps his newer material, the setlist seemed to be a fair sampler of his work, albeit limited to key parts of his catalogue. It was reasonable to expect that Bob would play a bunch from his new album "Life and Times" which he did, but the rest of the set was limited to selections from his Husker Du and Sugar days as well as "Workbook"-era solo material. Obviously, I'd love the Sugar material which Bob and band performed with a bit more raggedness than on record. Physically, Bob seemed as energetic as ever on stage as he churned out his guitar chords and vigorously sung his lyrics. With less hair on his head[which seemingly has transposed itself now as facial hair] than in his younger days, and with Bob wearing glasses[yes, I know he's been wearing glasses for a while now], he's visibly older but still possessed much of the same energy
as I'd ever seen/heard him[which was only in video format] in his younger days
. That said, Bob did tone things down a few times picking up the electro-acoustic guitar with a highlight being a stupendous reading of Husker Du classic "Hardly Getting Over It". My favourite Sugar/Bob Mould song ever(and one of my favourite songs ever) "If I Can't Change Your Mind" was initially not on the setlist so it was with utter surprise that instead of ending off the encore with "JC Auto" we instead got "If I Can't Change Your Mind". He's playing it a little faster and scruffier these days but just to hear the song's melody, lyrics and guitar chords was pure joy. Thank you Bob.
And if merch was your thing, you'd not have contained yourself when you saw the quantity of Sugar and solo-work merch(including tapes, CD's, vinyl, t-shirts, and DVD's) that Bob brought for sale. With much of the older items at $5 a pop it was a good opportunity to fill out your Sugar collection or pick up the vinyl.
Photos:
Bob Mould @ The Mod Club in Toronto (October 5, 2009)
MySpace:
Miles Benjamin Anthony Robinson
MySpace:
Bob Mould