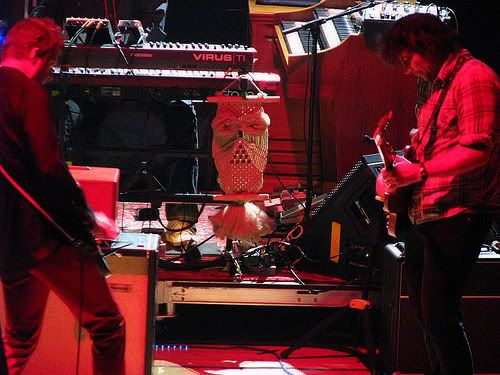 At last Thursday's
Wilco
show at Massey Hall, the second night of a two-night stint, for much of the night I was waiting for Mr. Jeff Tweedy to call us a bunch of motherfuckers like he did
back in 2006 at the same venue
. To put in more in context, the reason Mr. Tweedy resorted to cussin' us out back in 2006 was that he was trying to get us to all stand up, which we eventualy did. So when the band returned to Toronto to play Massey Hall in
June 2007
, there was a visceral energy within the audience, with many standing up right from the start of the show. As appreciative as the audience was for Wilco's show last Thursday night at Massey Hall, there seemed to be a level of restraint in the crowd, and from my fairly central balcony seats was quite apparent. A few expletives from Mr. Tweedy might have jarred some from their catatonic state.
Missed opener
Liam Finn
's set entirely, although I'd had every intention to catch it. Not realizing that road construction had closed off some of my usual parking spots on Queen St. and every other parking in the vicinity of Massey Hall taken, eventually I'd found a spot a little further away but only at the price of walking in to Massey Hall just as Mr. Finn's set concluded and everyone was filing out for a bathroom break. Ran in to
Chromewaves
, who I'm sure'll have his review posted tomorrow. Looking on the bright side, me missing Mr. Finn's set means less to write for this review. (In any case, Liam's back for a show at Lee's Palace on October 29 with opener
Miracle Fortress
.)
Last Thursday's show was my second Wilco show this year.
Earlier in the year during my vacation trip to Barcelona
, I capped off my nine days in the city seeing Wilco at Barcelona's opera house, L'Auditori. Terrific venue, terrific enthusiasm from the crowd, and terrific energy from Mr. Tweedy and the band, it was a wonderful way to spend my last night in Barcelona. So while last Thursday's show, paled in comparison as an experience(for me), a Wilco show's a Wilco show, and it turned out to be a satisying musical evening.
It took Jeff about eight songs into their set before he'd offered a greeting to the crowd, and part of me imagines if he'd said anything sooner to the crowd, the crowd would have been more energetic. From my vantage point from my fairly central balcony seating, it seemed much of the balcony was pretty catatonic remaining seated while the gallery seating crowd had pockets of people standing, and from what I could see of the floors there seemed to be more energy down there. And there was the crux. The non-uniformity of the crowd energy was a drag. Not to say that I'm the most extroverted person but at least I was nodding my head and whooping it up at some key musical points, which is more than many around me in the second-level balcony seats had done.
Cutting out "Summerteeth" entirely yet even reaching back to "A.M" during the encore, the
setlist
focused on the new album "Wilco (The Album)" as well as their previous three efforts "Sky Blue Sky", "A Ghost Is Born" and "Yankee Hotel Foxtrot". So the initial disappointment of not hearing usual "Summerteeth" inclusions like "Via Chicago" or "A Shot In The Arm" was shortlived as the rest of the setlist touched on many Wilco favourites, new and old. There were the singalongs like the soulful "Jesus, Etc"(which had Jeff letting the audience sing the first half of the song by themselves before Jeff and the band joined in later) and the main-set closer piano bounce of "Hummingbird". There were the Nels Cline-guitar workouts on songs like "At Least That's What You Said", "Handshake Drugs" and "Impossible Germany", with Nels monumental guitar solo on the last mentioned song at least awakening some momentarily. Some of the most satisfying songs were the straigt-ahead rockers like "Wilco (The Song)", "Kamera", "Walken" and "Casino Queen". Of the new songs, the folk-rock ambiance of "Deeper Down" with Nels on pedal steel was particularly effective.
It was the encore that was perhaps the most successful and invigorating segment of the show, motivating some of us like myself to finally stand up and enjoy ourselves. A band theme song like no other, the encore lead off with the scruffy guitar squall of "Wilco" (The Song), leading into the goosebump-inducing melancholy of "Misunderstood". Liam Finn and band mate would join Wilco on a charming rendition of "California Stars". Undoubtedly it was the next song "You and I" featuring a guest appearance from hometown girl Leslie
Feist
that had everyone in rapture as audibly could be heard as Feist walked onto the stage, performed the song dutifully then left the stage. Such a treat it was for us to see her since she hadn't made an appearance the previous night. The show could have perhaps ended on that high note but as if to expend us of all our new-found energy entirely, the band ran through the next three uptempo songs, "Casino Queen", "Kingpin" and "I'm A Wheel" forcefully before bidding goodnight and promising to return for a
cross-country Canadian tour
in the new year. No Toronto date on that leg but that Hamilton date [February 23, 2010 at Hamilton Place Theatre] is looking mighty tempting.
There's more discussion of that show over at the
Via Chicago
forums.
The National Post
and
BlogTO
have reviews of the show.
Eye
has a review of Wilco's Wednesday night show at Massey Hall.
Photos:
Wilco @ Massey Hall in Toronto (October 15, 2009)
MySpace:
Liam Finn
MySpace:
Wilco
Video:
Wilco (w/ Feist) - "You and I" (live @ Massey Hall, October 15 2009)
(courtesy of
lubicon
)
Video:
Wilco (w/ Feist) - "You and I" (live @ Massey Hall, October 15 2009)
(courtesy of
cabinboy15
)
Video:
Wilco (w/ Feist) - "You and I" (live @ Massey Hall, October 15 2009)
(courtesy of
tigsy23
)
Video:
Wilco - "Jesus, etc" (live @ Massey Hall, October 15 2009)
(courtesy of
tigsy23
)
Video:
Wilco - "Impossible Germany" (live @ Massey Hall, October 15 2009)
(courtesy of
tigsy23
)
Video:
Wilco - "Bull Black Nova" (live @ Massey Hall, October 15 2009)
(courtesy of
mediapartyvideo
)
Video:
Wilco - "California Stars" (live @ Massey Hall, October 15 2009)
(courtesy of
mediapartyvideo
)
Video:
Wilco - "Casino Queen" (live @ Massey Hall, October 15 2009)
(courtesy of
the2scoops
)