Update [Oct 3/09, 4:59 pm]:
review now up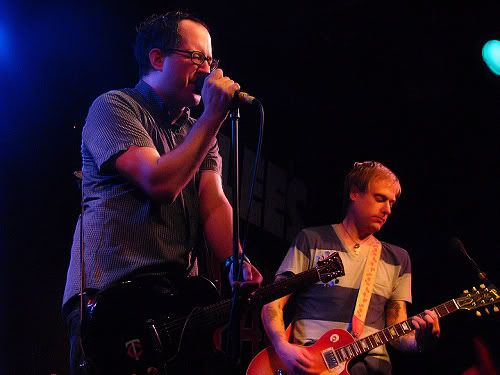 I'd suspect that wherever
The Hold Steady
play they're greeted like hometown heroes, and in Toronto you can count on no less. Selling out two shows at Lee's Palace way in advance and with their live album "A Positive Rage" released earlier this year to flock, seeing them live is the way to truly experience them as I did on the second night of their two-show stint, also the last night of their Canadian dates.
Local's
Still Life Still
opened the show with a tuneful racket that beared a passing resemblance to their labelmates older brethren Broken Social Scene. Maybe I was just a little turned off by their over abundance of enthusiasm the first time I'd seen them live when they opened for Stephen Malkmus at the Phoenix Concert Theatre last year (not to mention that Fleet Foxes cancelled their opening slot that night). The enthusiasm seemed a little more natural and in check with the tempo of the music this time around so I was more focused on the music and on at least a few occasions I was taken by their scruffy melodicism. I could imagine having at least a few of their tunes on a mixtape (ok, I mean iPod playlist).
On any given occasion one is fortunate to see The Hold Steady live I'd imagine it could be one of the best shows you'd ever experienced. I'd seen them live for the first and my only time
back in October 2006 at the Horseshoe Tavern
which was stupendous in its own right, and the show last Sunday night was as good if not better. I know it's a good show when the energy of both the band and the audience drives me to pogo, which I rarely do. I must say it's transcendental. With the band's Springsteen-ish, though perhaps punk-infused, riffage, combined with university - teaching - assistant - looking lead vocalist Craig Finn's bordering - on - stream - of - consciousness sing-speak, the band ran through a sweat-filled set that spanned their four studio albums, slowing things down every now and then for both the band and audience to catch their breaths. A rock show on a Sunday night never felt so good.
Photos:
The Hold Steady, Still Life Still @ Lee's Palace in Toronto (September 27, 2009)
MySpace:
Still Life Still
MySpace:
The Hold Steady