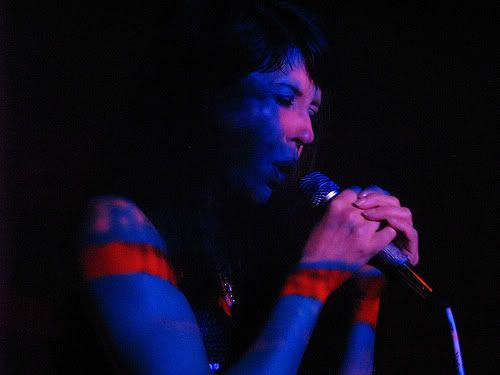 Update [Oct 11/09, 4:02 pm]:
Apologies for the untimeliness of this review. There were other more important things I was preoccupied with but I hope to get back into the fold soon.
I'd disappointedly missed out on tickets to the
Sufjan Stevens
show at
Lee's Palace
on October 1 so instead I decided to take in the show at
The Garrison
featuring a dancier bill than I'm usually found at. Headlining the show was Portland electro-disco duo Glass Candy who I'd actually been intrigued to check out ever since hearing their stone-cold-classic disco-soul track
"Rolling Down The Hills"
a few years ago. Based out of New Jersey label
Italians Do It Better
, their label-mates Montreal's Desire were also on the bill with Toronto synth-dance trio Parallels starting out the night.
Initially I was a little disappointed that the show had been moved from
The Great Hall
on Queen St. to the newly opened Garrison on Dundas near Ossington. The Garrison lacks The Great Hall's historic design details and is instead a very bare-bones establishment with a bar and tables visible through it's window front and a back room music space. Over time it'll be interesting to see how the venue establishes it's identity. The venue's apparently the new venue for
Wavelength
and while
Sneaky Dee's
may be the sentimental preference for many Wavelength regulars, I must inform that The Garrison's stage has better sightlines overall and could very well be easy to convert to(just hope they still have the cheap beer). And with the Dakota Tavern just down the street and several other bars and establishments in the area, perhaps Dundas and Ossington will be the destination of choice for some in the future.
Toronto's
Parallels
opened with their cool, dark synth-pop and while the 11 pm opening band start time was already making me anxious, I settled in front-stage left to absorb their set. Since
first seeing them live at the Reverb
during
NXNE
in June, I'm more or less indifferent about them. I'd favour more icyness a la Ladytron in the vocals from vocalist Holly Dodson but the icy synths from Joey Kehoe and the bubbling electro beats were decent. Drummer Cameron Findlay given his pedigree as ex-drummer of
Crystal Castles
not surprisingly provided much of Parallels' momentum. I'm still uncertain whether Holly's use of vocoder at times was a good or bad thing. I'll take Parallels in small doses for the time being at least only because they pursue a genre that is particularly lacking in Toronto.
With producer Johnny Jewel at the helm of both Glass Candy and Desire, it harkens back to the days of disco divas when it was the vocalist that established the identity of a song. While Glass Candy's been in existence for several years, Johnny Jewel's relationship with
Desire
vocalist Megan Louise is relatively new. With Nat Walker on drums, Johnny on beats and synth, and Megan on vocals they pursued a sound that favoured less of Glass Candy's buoyancy for a darker, cooler dance pop sound with washes of synth, leaner beats and clearer vocals. On the downside, there was a triteness to the lyrics at times that was sometimes hard to stomach. It was those times, I'd wished she sing more often in French than she did that night.
With
Glass Candy
vocalist Ida No and producer Johnny Jewel on synth and production, they concocted a stew of scintillating disco-pop tracks for the hungry crowd. Not surprisingly, the Toronto audience showed a bit of restraint to 'get into the groove' so to speak, but others were more freely expressive. Johnny Jewel's production in Glass Candy showed more textures and details than he did with Desire, and combined with Glass Candy vocalist Ida No's free-spirited stage presence as she danced and moved with abandon, it was one of those ree - your - mind - and - your - ass - will - follow kind of shows. With the show's conclusion approaching 2 am, we were all a bit tired I'm sure, but it was all worth it to witness a Glass Candy performance. Now if only they'd performed "Rolling Down The Hills".
Photos:
Glass Candy, Desires, Parallels @ The Garrison in Toronto (October 1, 2009)
MySpace:
Parallels
MySpace:
Desire
MySpace:
Glass Candy