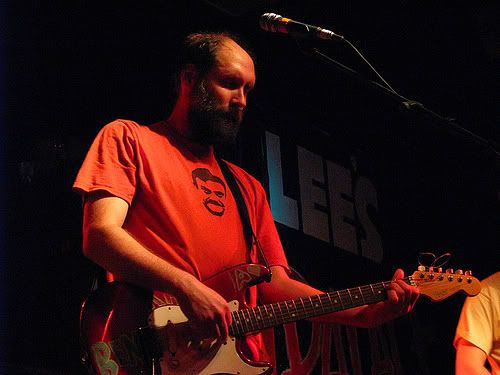 Update[Oct 15/09, 12:21 pm]:
my review, err, ramblings of the show are now below. Next show on my schedule - Wilco at Massey Hall tonight, October 15 (and hopefully that review won't take me a week to get up).
Boise, Idaho's Built To Spill were a band that I'd somehow had missed the boat during my indie rock upbringing in the 1990's so in some respect I'm sorely underqualified to review their show last Tuesday night at
Lee's Palace
(the first night of a two-night stint) with anything other than a gutteral reaction. So even though the band had made the leap to a major label(Warner Brothers) in 1997 with their album "Perfect From Now On"(an album I've yet to hear - shame on me, right?) it was only with 2006's "You In Reverse" I gotten down to listening and
admiring them
.
Consistent with most of my recently attended shows, I'd only caught part of the opening act's set. At the point that I entered the venue, Swiss four-piece
Disco Doom
were in the midst of a drawn-out storm-approaching guitar - bass - drums instrumental coda. That song plus the samples I'd heard on their MySpace which displayed their dynamics-abound guitar indie rock were enough for me to feel just an ounce of regret for not catching more of their set.
As unfamiliar
Built To Spill
's set was to me, with the exception of the several "You In Reverse" tracks they performed, overall it was a satisfying set. Orange - Kurt - Vonnegut - t-shirt wearing frontman Doug Martsch led the band through a set touching on their newest album "There's The Enemy" as well as
pogoing through their catalogue
to the crowd's delight. I really enjoyed their musicianship which was full of teeth especially in terms of guitar sonics and arrangements as well as its solid rhythm section and yet at the same time there was a nice melodic sensibility. And though I'd fully anticipated an evening of rock, it turned out to be more of the listening and head nodding variety than full-out head-banging and fist-pumping. Perhaps it was a little low-energy at times, but for the most part I was more than satisfied with the musical quality. And thus, I have a little bit of back-catalogue exploring to do.
Check out
Pete Nema
's and
blogTO
's reviews of and photos from the show.
Chromewaves
has a review and photos of the band's second night show on October 7.
Photos:
Built To Spill, Disco Doom @ Lee's Palace in Toronto (October 6, 2009)
MySpace:
Disco Doom
MySpace:
Built To Spill