&nbsp
Camera Obscura @ Phoenix: photo by Michael Ligon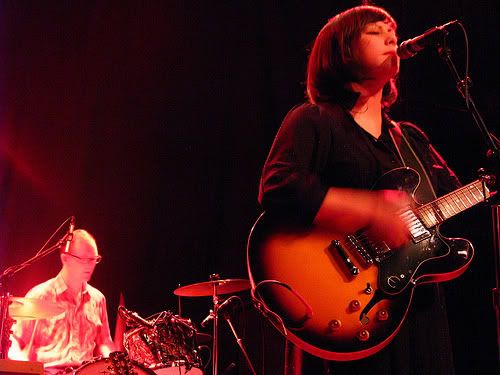 Throwing around descriptors like 'indie' and 'pop' (and especially when they're conjoined) can sometimes be to the detriment of bands they're applied to. Certainly, they are overused terms but as well they're also wholly inadequate on they're own. Scottish indiepop band Camera Obscura and San Franciscan indiepop band The Papercuts played the Phoenix Concert Theatre in Toronto this past Thursday, but in my opinion could have none been more different.
Opening the show were San Francisco four-piece
The Papercuts
. Closest point of reference for me was
Luna
as The Papercuts share a similar woozy, pop-rock sensibility. But whereas Luna's pop takes it's cue from the muted energy of The Velvet Undergound, The Papercuts express their melodicism with a more spacious, dreamy quality. Lead vocalist Jason Quever had the sort of vocals that soothed it's way into your cerebelum, a nice match to the equally soothing pop-rock instrumentation. Despite a few guitar cord mishaps, which eventually seemed to be resolved, it was a good set. As first impression go, they made a good one.
At this point in their career, Scotland's
Camera Obscura
really need no introduction, especially with
their last show in Toronto at Lee's Palace back in June
being still fresh in some of our memories. I've had a little more time since then to familiarize myself with their most recent album "My Maudlin Career" and have come to like it a lot. My initial impressions were that it was 'more of the same' - as good though not better than their last album
"Let's Get Out Of This Country"
which in my opinion was front-to-back a fantastic pop classic. However, with each successive listen of
"My Maudlin Career"
it reveals itself to be downright fantastic in it's own right. And on that point alone I appreciated the new album's songs more this time than at their last show. Balancing the exhilirating uptempo numbers with melancholy slower material the band touched on their last few albums, reaching back to their debut,
"Biggest Blue Hi Fi"
, for a sentimental rendition of 'Eighties Fan'. But what I could tell from the new material especially was that lead vocalist Tracyanne Campbell is singing with ever so slight strength and confidence, certainly not the vulnerable crackle of the recorded version of 'Eighties Fan'.
The one-two punch of
'Lloyd...'
followed by
'Looks Could Kill'
now seems predictable but still sounded as good as ever. The melancholy slower material almost seemed the most effective such as the new album's
'James'
, but even moreso the country-ish balladry of
'Forest and Sands'
(with the added Toronto-centric lyric of "like a river in Toronto") which popped up during the encore sandwiched between
'Let's Get Out Of This Country'
and encore closer
'Razzle Dazzle Rose'
stood out for me as the highlight of the night. Unless, perhaps they bring a real string section along next time, there was not much of a visual element to Camera Obscura's stage presence except for handclaps, a shy smile, a tilted head bob from keyboardist
Lindsay Boyd
Carey Lander, and Tracyanne's thick Scottish-accented banter (which there was precious little of this time). It didn't otherwise matter for me or the relatively packed house. It's a treat to see Camera Obscura live when the opportunity arises and am thankful that Toronto continues to be one of the band's regular stopovers.
ps. Thanks for the well-stocked merch table. My new band t-shirt is looking fine and their Christmas single
'The Blizzard'
b/w
'Swans'
, which I picked up on vinyl is fantastic.
Photos:
Camera Obscura, The Papercuts @ Phoenix Concert Theatre in Toronto (November 26, 2009)
MySpace:
The Papercuts
MySpace:
Camera Obscura