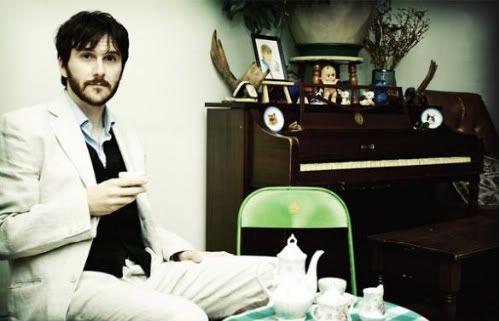 >
The last time I'd seen
The Heavy Blinkers
live was
back in September 2005 at the Casbah in Hamilton
, a trio configuration including the band's leader Jason MacIsaac, multi-instrumentalist Dave Christiansen and at-the-time new hired vocalist
Jenn Grant
(who of course, went on to have her own successful solo career). I'd had the opportunity to chat briefly with Jason (who was really a nice guy, btw) who'd mention working on a new album, but 4 years later and I'd lost hope on whether it'd ever see the light of day. A glimmer of hope is now on the horizon as
chartattack
reports that the band's highly anticipated double-album "Health" is still planned for release and according to a press release I received through e-mail it should be out this March. However with founding members Andrew Watt and Ruth Minnikin leaving the band in 2008, I wonder if Jenn Grant will continue to sing with the band in the future. She did however sing on the band's newly released holiday tune "Silence Your Drum", exhibiting that sparkle I'd seen/heard when I'd seen her with the 'Blinkers four years ago:
MP3:
The Heavy Blinkers - "Silence Your Drum"
Video:
The Heavy Blinkers - "Silence Your Drum"
And to go off on a Christmas tangent, here's some other holiday audio goodies:
The Line Of Best Fit
has an intriguing indie Christmas mix for download featuring many of Canada's top indie acts. This one is one I need to hear.
Viola-playing vocalist Anni Rossi has a free Christmas EP for download for the price of your e-mail address. Via
The Independent Ear
.
Stereogum
collects a batch of new indie rock Christmas mp3's for 2009 for download. Sweet.
Music Under Fire
has some new and some older indie rock Christmas mp3's for download.
Up for grabs still at
Saddle Creek
is Bright Eye's hurtin' version of "Blue Christmas".
NME
has a collection of indie Christmas mp3's from the likes of Lucky Soul, Slow Club, The Hush, and The Crookes.
NME
also presents "An Alternative Christmas Playlist" and although only YouTube clips, there's some interesting choices there to seek out in MP3 form.
Get in the holiday spirit with
The Anti-Hit List
's holiday edition. As usual, Mr. Sakamoto has an intriguing selection.