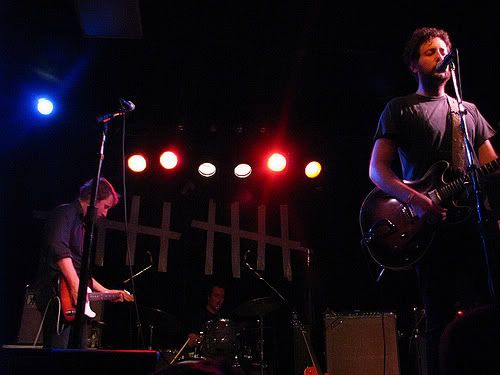 The Constantines @ Lee's Palace: photo by Michael LigonUpdate [Dec 17/09, 12:22 am]:
Review now posted below.
Last Friday at
Lee's Palace
was the first of a three night Toronto stint(the second night being on December 11 and the third to be this Saturday December 19) for Guelph's
The Constantines
who are touring in support of their 10th anniversary. And of course it was sold-out as ot deserved to be. All I can say is that while I've seen my share of Constantines shows(the first time being on May 8, 2003, my birthday, at the Phoenix Concert Theatre at Exclaim's 10th anniversary party), 10 years, 3 record labels and 4 albums into their career and they're still as strong as ever.
The Weakerthans
have had strong ties to The Constantines over the years, especially with both bands having toured together a few times under the banner of "The Rolling Tundra Revue". It seemed quite an obvious choice that The Weakerthans John K. Samson take part in The Cons festivities as he did with his admirable solo opening set. I'm not terribly familiar with John's works either with The Weakerthans or as a solo artist but apparently he did perform both solo[especially tracks from his new solo e.p. "City Route 85"] and Weakerthans tracks with just vocals and acoustic guitar. Effortlessly tuneful songs, simple guitar strumming and John's laid back vocals made for a decent set, at least what I'd caught of it given I'd shown up about half way through. An incessantly chatty audience didn't detract from the enjoyment of those towards the front of the stage who were listening quite attentively, especially when John at one point pushed the mic aside and performed a song unamplified which had some in the audience singing along enthusiastically.
Welland four-piece
Attack In Black
were up soon after playing a set of insightful and well-exected rock n' roll tunes, owing as much a debt to The Constantines as it did to Neil Young. The Cons aren't of course yet ready to pass any torches quite yet but Attack in Black more than hold their own. I was pleasantly surprised how much I enjoyed them, their main attraction being their knack for combining tuneful melodies and crunchy instrumentation. I was also really impressed with vocalist Daniel Romano effortlessly, sinewy guitar playing. And just to reemphasize their
Neil Young
admiration, they ended the set with Romano on lead vocals and guitar with the other band members as well as John K. Samson and members of The Constantines providing back up vocals for a version of Neil's 'Natural Anthem'. It was definitely an off-the-cuff performance as various individuals made an effort to sing a long by reading the lyrics taped to the back of Attack In Black's Ian Daniel Kehoe's bass guitar.
The minimalist decorative wall design, merely the number ten expressed in two sets of five dashes, spoke volumes. The Constantines have always been a no-frills band, instead letting their music speak for itself. Drawing on four albums, the band performed a good cross-section of material, faves like 'Young Offender', 'Young Lions', 'Hotline Operator' and 'Nighttime Anytime' drawing the biggest audience response. As someone who's gone to my share of Cons show, The Constantines delivered it live as usual, with no surprises but also no letdowns. The one surprise of the night was John K. Samson's turn at vocals, at one point stage-diving into the audience for a brief spell before being returned to the stage by the audience. Otherwise, it was business as usual as The Cons performed their brand of gritty rock n' roll, their most adrenaline-rushed tunes provoking a spirited and physical response from the crowd. There was the typical audience call-and-response moments (like on 'Nighttime Anytime') and a certain amount of pogoing and or approaching-on slam dancing, all very predictable to a multiple Cons show-goer like myself but it's always enjoyable to witness/participate. Ten years into their career and seven years after I'd first seen them live and The Cons appear and sound as vital as ever. The cliched thing to say right now would be "here's to another 10 years", but then really the band's first 10 years was a lifetime, and it's somewhat rare that any band reaches that pinnacle. All I can really hope for now is that the band continues as long as they feel it's right for them. In the meantime, the fans will always be there.
BlogTO
also has a review and photos from the same show.
Eye
's Sarah Liss talks ten years with The Constantines' Bry Webb.
Photos:
The Constantines, Attack In Black, John K. Samson @ Lee's Palace, Toronto (December 11, 2009)
MySpace:
The Weakerthans
MySpace:
Attack In Black
MySpace:
The Constantines