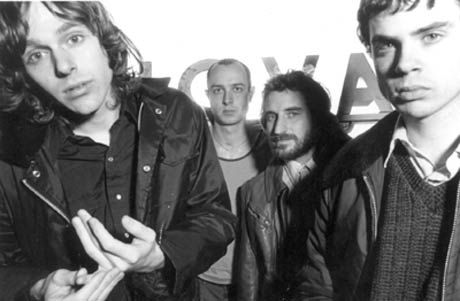 photo via Exclaim
Although still not officially confirmed, a
Pollstar
listing from late last week has
Thrush Hermit
fans excited:
Wed 03/24/10 Peterborough, ON The Historic Red Dog
Thu 03/25/10 Ottawa, ON New Capital Music Hall
Fri 03/26/10 Toronto, ON Lee's Palace
Sat 03/27/10 Toronto, ON Lee's Palace
chartattack
reports it a little differently that the band are also expected to play gigs in Moncton, N.B., Halifax, Montreal and Ottawa and that they will be doing two-night stints in most of these cities.
Update:
As
Chromewaves
points out, Joel Plaskett confirms the reunion in an interview with
Exclaim
.
I recall someone on Facebook commenting that for the Toronto shows, the band would play their album "Sweet Homewrecker" in its entirety on March 26 and "Clayton Park" on March 27, interspersing songs from their EP's on both nights. So far that's just all hearsay, but it sounds plausible.
In googling the band recently, I found out that Thrush Hermit's last show in Toronto was a decade ago at the Reverb on December 6, 1999, a somewhat bittersweet revelation with the recent news that The Big Bop venue (which includes the Reverb, Holy Joe's, & Kathedral) is
closing in January in the new year
.
I'm looking forward to the Thrush Hermit reunion tour and hope this is not all a cruel joke. I even loaded up the iPod yesterday with all my Thrush Hermit releases. Although "Clayton Park" includes my favourite Thrush Hermit song ever, that being 'The Day We Hit The Coast', damn I forgot how much I liked "Sweet Homewrecker". But back to 'The Day We Hit The Coast', I also loved the video, especially the part of the band dressed up as mountain men roaming the mountain winter wilderness, then stopping to take a breather at a park bench. Classic:
Video:
Thrush Hermit - "The Day We Hit The Coast" (music video)