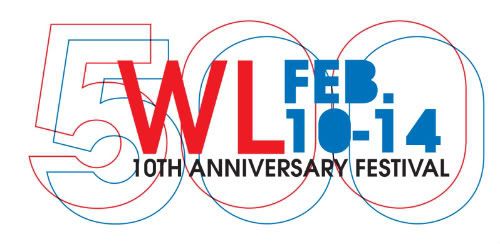 The lineups for the upcoming
Wavelength 500
shows were announced yesterday evening and are as follows:
Feb 10, 2010 >>>
Bruce Peninsula
,
Evening Hymns
,
Pony Da Look
,
Deep Dark United
,
Canaille
@
Music Gallery
(7pm • $12 adv)
Feb 11, 2010 >>>
Holy Fuck
,
Russian Futurists
,
Fembots
,
Diamond Rings
,
Professor Fingers
@
Steamwhistle Brewery
(8pm • $18 adv)
Feb 12, 2010 >>>
From Fiction
,
Bicycles
,
Laura Barrett
,
Magic Cheezies
,
Young Mother
@
Sneaky Dee's
(9pm • $12 adv)
Feb 13, 2010 >>>
Constantines
,
Rockets Red Glare
,
Donne Roberts
,
Picastro
,
Danger Bay
@
Polish Combatants Hall
(8pm • $20 adv)
Feb 14, 2010 >>>
Kids On TV
,
The Barcelona Pavilion
,
Mean Red Spiders
, Neck a.k.a. Christiana, Boars @
The Garrison
(9pm • PWYC (door only))
Passes and single-night advance tickets (except for Feb. 14, door only) will be for sale at Soundscapes, Rotate This and GalleryAC.com starting January 7, 2010. A Festival Pass is $50, which is a deal if you want to go to everything, and I might just do that (although I think I might be dead at the end of it). The Wavelength 500 festivites have something for just about every indie rock fan, culling its lineup from buzzed-about acts from today like Bruce Peninsula, Evening Hymns, and Laura Barrett and those from earlier in the decade, including a few reunions, like From Fiction, The Bicycles, and Rockets Red Glare.
Frankly, I missed out on many a Wavelength show (yes, mostly wimping out because it's on a Sunday night) but I've caught a few of those Sunday night shows as well a few of the Wavelength anniversary shows over the years. At the time, the Sunday night shows probably felt to me like your typical indie-rock get-togethers featuring bands you may or may not have heard of. In retrospect, it WAS something special, epecially for the artists I'd never saw very early on in their careers like
The Arcade Fire
,
Sufjan Stevens
and
Broken Social Scene
. And I still kind of regret not going to the see Swedish indiepop crooner
Jens Lekman
when he played one Sunday night back several years ago. But if anything reading the Wavelength listings in the Toronto weeklies were always somewhat of a dropkick to my cranium to check out some of the local acts if they were to play around town on a more convenient night for me. The one thing I do have to applaud is that Wavelength was successful in it's original mandate to
"...breathe some life into some of the darker corners of Toronto's perpetually overlooked indie music scene."
I'd say mission was accomplished.