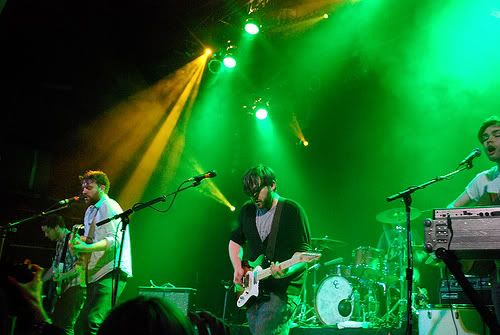 When a band visiting Toronto steps up in venue-size from their last visit to the city, one would hope they'd capture the magic they did in the smaller venue. More often than not it seems, I'm disappointed. When Scottish group
Frightened Rabbit
last
played Toronto in July 2009
it was at the small-ish Horseshoe Tavern, and with that confined space and a fervently, enthusiastic crowd, the vibe of that night was electric. It was inevitable that Frightened Rabbit would be playing a larger venue the next time, and while last week's show at
The Opera House
had it's moments, it did pale in comparison to their last visit.
I made a conscious effort to skip first openers
Our Brother The Native
who had also opened for Frightened Rabbit at the 'Shoe last year, as I wasn't too keen on the band's quirky experimentalism. I had all intentions of catching second openers
Maps and Atlases
but having planned my arrival for around 10 pm (given I'd been told that Frightened Rabbit's set was at 11 pm) I'd been surprised to find out that I'd missed Maps and Atlases entirely; Frightened Rabbit's start time was actually closer to 10:30 pm as it turned out. In any case, Maps and Atlases will be returning for their own headlining show when they play the Horseshoe on August 7.
Promoting their latest album, cheekily entitled "The Winter of Mixed Drinks", I can't comment at all on the new songs since I hadn't heard them before the show but it was definitely the band's songs from their previous effort "The Midnight Organ Fight" which got the audience's juices flowing. Perhaps the most memorable moments of the night though were lead singer Scott Hutchinson's occasional banter. New song "Footshooter" was as Hutchinson explained, then chuckled, a personal apology to anyone he'd ever offended. Later on he quipped that with the band's merch t-shirts having a double-cross graphic on it, they must be doubly-better than Jesus, a humourous segue as Hutchinson belted out "Jesus" for fan-favourite "Heads Roll Off". And while the audience participation like a fan spontaneous yelling out "Coachella missed you!" [as the band could not fly over to Coachella in time due to the Icelandic volcano crisis last month] showed that fans were psyched for the show, overall the audience seemed a little too laid back. Between songs the fans showed their appreciation, but I wished there was a little more movement during songs. Audience enthusiasm picked up during the encore with Hutchinson's unamplified solo acoustic performance of "Poke" as the audience eventually hushed, then sang along and evenutally broke out into hoots and hollers, matching the sublimeness of the same song's performance at last year's show at the Horseshoe. Similarly, after the band played a newer song "Living In Colour", the band customarily ended off with fan favourite "Keep Yourself Warm" with as enthusiastic an audience singalong as you'll ever hear. So it ended off great and started off slow, with the net result being a decent show but not as inspiring as their last show at the Horseshoe. It was sort of expected by me that this show at The Opera House wouldn't match the brilliance of their last show at the smaller Horseshoe, but I wish that hadn't been the case.
Photos:
Frightened Rabbit @ The Opera House, Toronto (May 4, 2010)
MySpace:
Frightened Rabbit