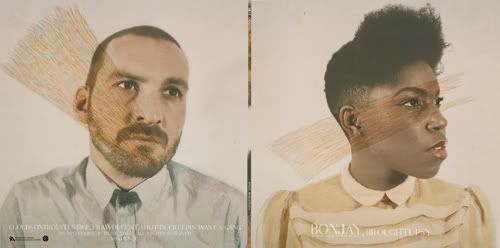 Bonjay
So what will it be tonight for
Canadian Musicfest
. The garage-punk showcase at Wrongbar looks strong and entertaining - I'll vouch for the 3/4 female Nashville punk outfit
Heavy Cream
who I saw
during CMJ in New York City this past October
- crazy, cool vocalist. And Vancouver garage-blues duo
The Pack A.D.
are also fun to experience. I have a feeling this venue'll be crazy busy. Japan's
The Zoobombs
always put on a fantastic rock n' roll show and they'll be at The Comfort Zone at 1 am. The music selection that appeals to my tastes are somewhat thin tonight - I don't have that many options for each of the times slots and I just realized I don't even have a 9 pm selection. What I'm almost positive is that I'll be heading to The Mod Club to check out the electro / dancehall / r n'b stylings of Toronto's
Bonjay
. I only saw two bands yesterday - Montreal's
Karkwa
and buzzy UK trio
Esben and The Witch
at Wrongbar, and then ended the night early only because I needed to crash - and I feel like I need to make up for that tonight. Let's do this.
8:00
Alcoholic Faith Mission
@ El Mocambo (downstairs)
@ Wrongbar
10:00
The Pack A.D.
11:00
Heavy Cream
12:00
Ty Segall
1:00
Teenanger
2:00
The White Wires
10:00
The Einar Flaa Academy
@ Global Village Backpackers
10:00
The Balconies
@ Lee's Palace
@ Horseshoe Tavern
10:30
Parlovr
1:30
Rah Rah
@ Silver Dollar
11:00
Neon Windbreaker
12:00
Shortpants Romance
2:00
The Peelies
@ Painted lady
11:00
Kill Krinkle Club
1:00
White White Sisters
@ Rivoli
12:00
The Golden Dogs
@ Rivoli
2:00
Fever Fever
@ Rivoli
12:00
The Treasures
@ The Dakota Tavern
12:00
Terra Lightfoot
@ Czehoski
@ Mod Club
12:15
Bonjay
2:30
DVAS
1:00
The Zoobombs
@ Comfort Zone
1:00
Kidstreet
@ El Mocambo (downstairs)