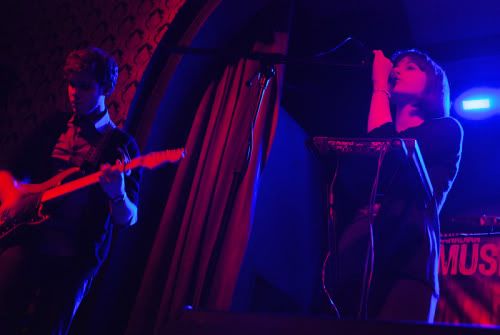 Memoryhouse: photo by Michael Ligon
Anticipating that The Great Hall might get busy for recently-signed Sub Pop signees' Guelph's Memoryhouse who were playing later in the night, I decided to kick off my
Canadian Musicfest
early at the venue to check out the opening acts. The venue's lineup for the night was part of
The Windish Agency
showcase. Detroit's Prussia kicked off the night to a sparse crowd and I didn't have much expectations by the non-descript looking five-piece but I did warm up a bit to the band's skewed indie pop. Lanking vocalist Ryan Spencer's vocals reminded me of a mix of Talking Heads' David Byrne and Wolf Parade's Spencer Krug and if that latter band's recent hiatus was a disappointment to you, Prussia's jaunty eclecticism will perhaps be right up your alley. As sparse as the crowd was, they were generally appreciative of the band's efforts. Or perhaps just of Spencer's contortive dance movements.
For a band who I'd tagged as having
one of the best singles of last year
I was a bit disappointed with my first experience seeing Toronto dance-rock trio Young Empires
when I saw them play Steamwhistle Brewery this past December
- they had much energy, and played off the crowd well, but most vocally, sort of lost track that night. In a turnabout, for their Canadian Musicfest set last week, it was the energy of the crowd that was sorely lacking while, vocally and musically they were much more on point. Adept at carving out tunes through a combination of programmed beats and samples with vibrant guitar, bass and vocals, songs like the Ibiza-fueled rhythms of
"Rain of Gold"
which reminded me of
Technique
-era New Order, to soaring set-closer indie tune
"White Doves"
showed Young Empires to be a multi-faceted band, as interested in singing songs as making us dance. It's just too bad that the crowd didn't break out into an all-out dance party. Chalk another one up to Toronto apathy.
Guelph's Memoryhouse will likely draw comparison's to other
Sub Pop
"-house" band
Beach House
, both bands music having a dreamy, melodic quality to it, but Memoryhouse seem even more devoted to that direction, to the pointing of seeming like they'd float off into the stratosphere. Reminiscient of bands like
Slowdive
and a bit of
Cocteau Twins
, Memoryhouse's set, while what lacked in general stage presence, was a dream-pop lover's wet dream musically. Having expanded from a duo to a four-piece for this show, the band played most competently. Ringing guitars, subtle keys, bass and drums, and angelic vocals and a good arsenal of tunes drove the short but sweet set but when the band upped-up the tempo ever so slightly on
"Heirloom"
while still maintaining all the other qualities that make them who they are, Memoryhouse really hit the mark. For the music they play, I don't ever expect them to have much stage presence (although banter, perhaps could help a bit), but I'd hope they'd considering augment their live set with some visual lighting or projections in the future. I do somehow find vocalist Denise Nouvion every bit enchanting because of her dreamy vocals AND despite the fact that all she did was gaze into the audience, or look down to her keyboards the whole time.
Photos:
Memoryhouse, Young Empires, Prussia @ Canadian Musicfest, Toronto (March 10, 2011)
MySpace:
Prussia
MySpace:
Young Empires
MySpace:
Memoryhouse