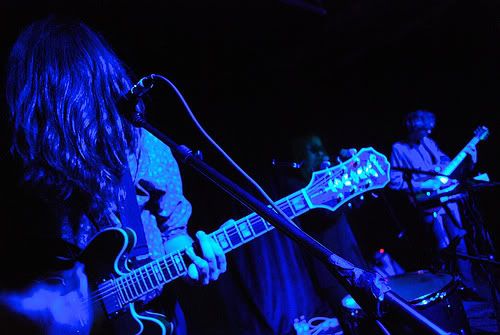 Esben and the Witch: photo by Michael Ligon
I guess a
Polaris Music Prize
win doesn't guarantee a lineup down the block for a band's
Canadian Musicfest
set that's in a relatively intimate venue, well at least if your Montreal Francophone act Karkwa. I generally didn't line up all that long arriving about half an hour before their scheduled set time and when I got in I found the venue to be have ample elbow room amongst those already inside. Members of the band had actually sauntered past us in line as they arrove and entered the venue through the front door with the person behind me in line saying in jest to Karkwa's drummer as he walked past something along the lines of "thanks for showing up". The humour was somewhat lost on the drummer before he realized the guy was making a joke. Except for the exquisite French-pop of their song
"Oublie Pas"
which I'd heard on the soundtrack of a Francophone film(whose title escapes me) I wasn't at all familiar with the band's music. A person in the audience I introduced myself too, who happened to work for chartattack, upon me asking her what the band's music was like described them as band who some have described as a French Radiohead. And after hearing Karkwa perform, they didn't really remind me of Radiohead at all - Karkwa were far more conventional when compared to Radiohead's current experimental-sounding output and Karkwa didn't sound at all like old Radiohead in my opinion. However, like Radiohead, I guess Karkwa do possess a certain amount of dramatic tension within their pop-rock tunes. The level of musicianship in the band was exemplary with vocalist/guitarist Louis-Jean Cormier and his band which included two drummers/drumkits, a bassist, and a keyboardist equipped with an arsenal of keyboards. And so while the band defintely has chops, I felt a disconnect overall which had not even so much to do with the fact I don't understand French. It was a good set overall, though not the great set I'd hope would prove to me why they won the Polaris Music Prize.
Similarly, UK's trio Esben and the Witch were a generally unknown entity with a lot to prove given all the buzz they've been garnered by the music press. Word is that when the band opened for Foals at Lee's Palace last September, they'd put on a good show. I'd only sampled a bit of their music prior to their show, and it's funny how a came to describe them in my mind as new-goth even before I read a lick of press on them which bandied around the term 'goth' ad nauseum. There was a tangible excitement for the young trio as they took the stage, the band composed of guitarist/keyboardist Thomas Fisher, electronics/guitarist Daniel Copeman, and vocalist/percussionist Rachael Davies. The band concocted an intoxicating mix of stark vocals, dark pop atmospherics, threatening guitar attacks and primal / electronic beats that had the crowd intrigued for the hour and a half or so they'd played.
The band's admitted in interview
that while everyone likes to describe them as goth(bands like
Bauhaus
,
This Mortal Coil
and
Cocteau Twins
), it was only after they were compared to them that the band discovered these bands. One wonders where the band did then get their influences, but if it is from within, it is one deep dark place. Intriguing. The band's Matador Records-released debut
Violet Cries
is out now.
Photos:
Karkwa @ Wrongbar, Toronto as part Canadian Musicfest (March 11, 2011)
Photos:
Esben and the Witch @ Wrongbar, Toronto as part Canadian Musicfest (March 11, 2011)
MySpace:
Karkwa
MySpace:
Esben and the Witch