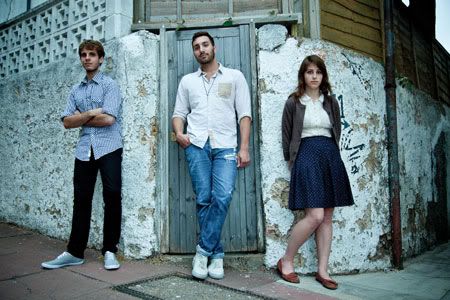 Memoryhouse: photo by Edward Bishop
This year's
Canadian Musicfest
(as part of the annual
Canadian Music Week
music industry conference) is about to kick off officially tomorrow night in venues across Toronto. The whole schedule is up
here
. Tomorrow night will have a number of venues hosting showcases although Canadian Musicfest really kicks into high gear on Thursday night. Check out my picks below [note: the band/artist names are hyperlinked to their respective MySpace sites]:
WEDNESDAY MARCH 9, 2011
After a perusal of Wednesday night's schedule, I found I wasn't intrigued by very much unfortunately. I'm non-committal about this night in general but if I do go out, I may check out some of the acts below.
9:00
Lordy Lordy
@ Rancho Relaxo
11:00
Snowblink
@ Painted Lady
11:30
Gentleman Reg
@ Gladstone Hotel
1:00
Sacred Animals
@ Painted Lady
THURSDAY MARCH 10, 2011
I fortunately have the day off work on Friday so if I feel motivated to hit Canadian Musicfest hard on Thursday night, I just may do so. This night in general is a much harder night for me to pin down a schedule because of all the time slot conflicts. Rather than a strict sequential listing of picks below for each time slot, I chose to group some picks by venue which gives a clearer picture of the option of hunkering down in one venue for part or all of the night (see especially my The Opera House, Wrongbar, Silver Dollar and The Great Hall picks below). Memoryhouse are my top choice of the night. Maybe I'll just head to The Great Hall early.
@ Sonic Boom
6:00 -
The Balconies
7:00 -
Dinosaur Bones
8:00 -
The Most Serene Republic
8:30
Modern Superstitions
@ Horseshoe Tavern
@ Lee's Palace
8:30
The Wilderness of Manitoba
9:30
Miracle Fortress
11:30
Young Galaxy
@ The Opera House
8:30
Little Scream
9:30
Isis (of Thunderheist)
10:30
Cadence Weapon
12:30
Land of Talk
@ Wrongbar
9:00
Valleys
11:00
Little Girls
12:00
Metz
1:00
Austra
2:00
Monolithium
@ Silver Dollar
9:00
Grounders
10:00
Heartbeat Hotel
12:00
The Russian Futurists
1:00
Silly Kissers
@ The Great Hall
10:00
Young Empires
10:45
Memoryhouse
11:45
Yukon Blonde
@ The Garrison
10:00
Actual Water
12:00
Brian Borcherdt
@ Smiling Buddha
10:00
Orangegrass
11:00
Sugar Plum Ferry
10:00
The R.G. Morrison
@ Bread n' Circus
10:00
Kalle Mattson
@ Mitzi's Sister
11:00
Chateau Marmont
@ Drake Underground
11:00
Bloodgroup
@ Rancho Relaxo
@ Clinton's
11:30
Idiotape
12:30
Vidulgi OoyoO
1:30
Mathemagic
@ The Hideout
12:00
Halves
2:00
The Butterfly Explosion