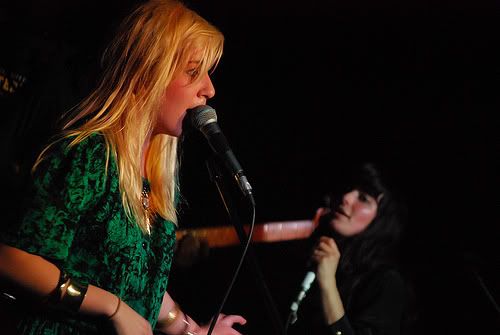 &nbsp
Austra @ Wrongbar: photo by Michael Ligon
It's no wonder that I only saw two bands for my second night(on March 11) of Canadian Musicfest as my first night consisted of 6 bands in total,
the first three which I reviewed a few days ago
. Let's waste no time and continue onward.
Next up for the midnight-and-onward festivities was Brian Borcherdt at The Garrison. Borcherdt is better known in most circles as the frontman of sound/beat manipulators
Holy Fuck
, but his work as a singer-songwriter was very much an unknown entity for me, although perhaps that unknown given the decent sized crowd that came out for his midnight set. With a forlorness in his vocals, Borcherdt performed an entertaining set of folk / alt-country tinged tunes, accompanying himself on electric guitar. Borcherdt began the set solo but then shortly into the set was joined by a burly gent on violin before he was replaced and joined by a bespectacled indie rock dude on drums. It was particularly disappointing that half the crowd seemed uninterested, chatting non-chalantly the whole time. In any case, it didn't seem to phase Borcherdt one bit and there was at least a few of us that enjoyed the set immensely. So what's next for Borcherdt? A combination of his beat-terrorism and his singer-songwriter mode perhaps? Now that'd be interesting.
From the Garrison, it was back down to Queen St for me and west towards Wrongbar where Toronto's Austra were set to perform. I'd picked up on the fact that Austra was
Katie Stelmanis
' new project. I'd previously been familiar with Stelmanis' music which combined her stark, dramatic vocals within a post-punk musical framework. There was a good-sized crowd in the venue and a tangible excitement in the air, and Stelmanis and company did not disappoint. Flanked by two dancers/back-up vocalist, a drummer, keyboardist, and a bassist, Stelmanis and company invigorated the crowd with a voluptuous set of electro-synth dance tunes. As a singer, Stelmanis retains her stark, dramatic vocals and against the supple drum beats and synth arrangements I was reminded a bit of
Bat For Lashes
although less devoted to
Kate Bush
influences and sounding more clubby. This is defintely music you can dance to, but it was the band's sultry combination of vocals and beats that was almost hypnotic, displayed in Stelmanis and her backup vocalists'/dancers' whose wavy body moments seemed to absorb and reflect every beat. For the crowd at the front of the stage at least, the urge to dance was undeniable, all flailing arms and booty-shaking. I cannot wait to see this band again. Undeniably the best set of this year's Canadian Musicfest, in my opinion. The band's debut album,
Feel It Break
, featuring drummer Maya Postepski and bassist Dorian Wolf is set to be released this coming May through Paper Bag Records.
Ending off the night for me with a 2 am set start time(and thankfully I had the day off work the next day) was Irish shoegaze act Butterfly Explosion. This wasn't the first time the Dublin band had crossed through town, having come to Toronto for some show or two back in April 2007 has documented by
Chromewaves
. My interest had been piqued back then but for a reason that escapes me, I didn't end up seeing them live. So with this 2 am set there one and only appearance at this year's Canadian Musicfest, I decided to check 'em out, and defer my comfy bed for another few hours. As shoegaze bands go, they weren't as transcendent as say My Bloody Valentine but they were no mere slouches either. In addition to shoegaze, the band was also partially indebted to their post-rock and dream-pop influences. The five-piece featuring Gazz Carr (Guitar, Vocals), John Coman (Drums), Conor Garry (Bass), Jay Carty (Guitar), and Aine McGrath (Keys, Vocals) thanked the crowd for coming out at the late time, then proceeded with a set of varying shades of shoegaze-influenced rock n' roll. While I recall the start of the set being a bit mundane(mostly due to the vocals), the band seemed to get better with every tune, varying their tempo, rhythmic assault, guitar heaviness, and keys accompanient from tune to tune. If anything, the lead vocals seemed to be the weakest element, and perhaps recognizing that maybe that was why much of the set seemd to be instrumental. There was however a tune where Gazz and keyboardist Aine both sang a bit more equitably on which made a strong case for the band to have more songs like that. There wasn't a particularly large crowd on hand, which seemed to get thinner as the hour drew later, and for what few remained, they seemed less interested in the band than in grabbing a last drink, but hey it was close to 3 am and I was ready to call it a night.
Photos:
Brian Borcherdt @ The Garrison, Toronto, Canadian Musicfest (March 10, 2011)
Photos:
Austra @ Wrongbar, Toronto, Canadian Musicfest (March 10, 2011)
Photos:
Butterfly Explosion @ The Hideout, Toronto, Canadian Musicfest (March 10, 2011)
MySpace:
Brian Borcherdt
MySpace:
Austra
MySpace:
Butterfly Explosion