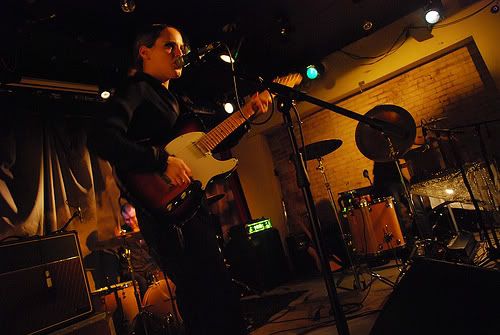 Anna Calvi @ El Mocambo: photo by Michael Ligon
Update [June 14/2011, 11:14 pm]:
Review now up.
One of the more anticipated draws of this year's Canadian Musicfest this past March was suppose to have been UK artist
Anna Calvi
who was suppose to have played a hotly tipped showcase at Wrongbar but when she cancelled the show plus a string of others due to an unspecified injury I'm sure it some disappointed. Ever since then I'd not even got around to sampling her wares but still was somehow compelled(based purely on the buzz surrounding her) to purchase a ticket to her show at the
El Mocambo
which took place a several weeks ago. Although press on Ms. Calvi from the local media and blogs seemed to be at a low rumble leading up to the show, the packed house did indicate otherwise that Toronto fans (or at least a segment of them) were still intrigued to check out the Toronto debut of this ingenue.
San Diego five-piece
Cuckoo Chaos
had the task of opening the show and were overall semi-successful. Admirable but not entirely revelatory, a modern point of reference would be
Vampire Weekend
as Cuckoo Chaos display at times a similar afro-beat means indie sensibility, although with less smugness and a bit more volume. The band's west coast origins also appears to have rubbed off in their music with at least of an ounce of a surf vibe in the band's African-influenced guitar melodies. The band in actuality are probably more influenced by the
Talking Heads
(rather than the Heads-influenced Vampire Weekend) even recounting them gushing over David Byrne who happened to take in their show at the Bowery Ballroom a few nights before - although Cuckoo Chaos vocalist Jackson Milgaten grinninly pointed out that Mr. Bynre was very likely at the Bowery to check out Miss Calvi. Cuckoo Chaos further into their set displayed more straightforward punk tendencies on at least one song which seemed to come from left-field but did show the band's versatility.
It's seldom these days it seems that I come across a new artist that leaves me awestruck but Miss Calvi did just that. Anna came onto stage with her hair tied back and wearing black pant suit and heels displaying a visual resemblance that reminded me of German actress/singer
Marlene Dietrich
. Along with her was a drummer and multi-instrumentalist/percussionist to fill out the sound. Her bandmates aside, it was Calvi's vocals and electric guitar which were front and centre. Playing songs off her
debut self-titled album
out through Domino Records, there was a myriad of influences that seemed to infuse her songs ranging from a southern gothic, twangy, guitar sound to the torch-song quality that infused her vocals. And if I had to pick her musical peers it'd probably be
PJ Harvey
and
Nick Cave
.
The beginning of her set, such as on her song "No More Words" in particular, started out with whispered vocals, brittle guitar, and lightly tapped drums and percussion quite a subtle display which at the same time made it quite apparent to the crowd of the hard-rocking band playing on the second floor. But soon, Calvi would cut loose with her expressive vocals and brash guitar playing on songs like the adrenalin-rushed "Blackout" or the gender-role reversal, early PJ Harvey-sounding "I'll Be Your Man". It was songs such as these that the crowd gravitated the most. On the other hand I was quite taken by the quiter, less-harsh material such as the romantic, grand-sounding "First We Kiss" or Calvi's twangy, southern gothic rendering of
Elvis Presley
's "Surrender". Nary a word from Miss Calvi between songs, but it didn't matter anyway because she'd already grabbed a hold of our attention with her music.
Her one-song encore, an urgent rendition of
Edith Piaf
's "Jezebel", practically bowled the crowd over, as Anna passsionately uttered "Jezebel" as the drums and guitar came to a stop-on-a-dime conclusion. Utterly wonderful show.
Photos:
Anna Calvi, Cuckoo Chaos @ El Mocambo, Toronto (May 27, 2011)
MySpace:
Cuckoo Chaos
MySpace:
Anna Calvi