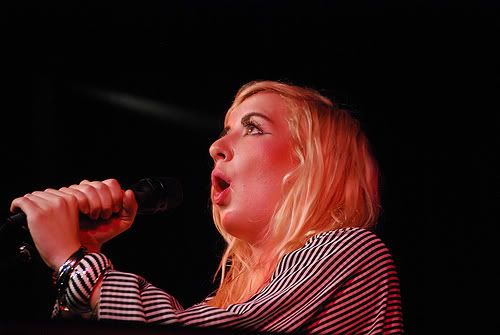 Austra @ Lee's Palace: photo by Michael Ligon
Update [June 9, 1:07 am]:
Review now up.
Don't take my tardiness in posting this review as any sort of apathy towards local electro-diva Katie Stelmanis, these days fronting her new band Austra, who played a sold out record release show at
Lee's Palace
for their debut
Domino Records
full-length
Feel It Break
. On the contrary, that show was just further evidence that the hype that the music is indeed well-deserved. I was intrigued with Stelmanis' earlier work as a solo artist under her own name as well as her collaborations with drummer Maya Postepski, Stelmenis' prior works which could be described as classically-influenced keyboard arrangements accomapnied by her stark operatic vocals. Stelmanis maintains her identifiable vocal style with Austra but the music is indeed much more accessible, for all intent purpose pop songs that mix goth and dance influences into a truly infectious mix.
My procrastination cost me getting an advance ticket to the show and so I consider myself very fortunate to get into the show after lining up early before doors opened and eventually snagging one of only six available tickets at the door. Yay! The first opener wouldn't go on until about an hour later, which would be local guitar/drums duo
Army Girls
led by singer-songwriter Carmen Elle. They were an odd act to open given the electronic/beat-oriented acts that would follow. Carmen had a certain charisma with her empassioned pop vocals and strummed guitar playing and certainly has the potential, backed with her drummer, for greatness but honestly songwise I can't remember much at this juncture. Perhaps it was a veil of Austra excitement which blocked my focus during Army Girls' set. Better luck next time.
On the other hand, local electro-synth outfit, Trust, which featured Austra drummer Postepski doing double duty, made a fantastic impression. With Postepski's solid drumming and vocalist Robert Alfons slightly deadpan vocals, and with a third member adding some scintillating synth arrangements, Trust create dark yet most times danceable pop music. I wish they had had a different band name as I'd have probably have taken notice of the band sooner in the music listings and have already checked them up, but better late than never.
When I saw
Austra
live for
the first time a few months ago
during
Canadian Musicfest
, other than Stelmanis and Postepski, they were an unknown entity to me but I was intrigued enough by their description and the buzz surrounding them to give them a chance and they turned out to be my favourite set of the festival. That set was a perfect combination of the band creating an intoxicating, hypnotic sound and the audience reacting enthusiastically with undulating dance movements. It was intense. I'd hope those circumstances could be recreated again during their set at Lee's Palace a few weeks ago but it wasn't entirely achieved. There's no mistake that before and during the show, the crowd was excited. But the move to the larger Lee's Palace as compared to the much more intimate Wrongbar at which Austra performed at during Canadian Musicfest would definitely play a factor, at least in my mind. Stelmanis does not so much play to the audience as she gets lost in her own undulating body movements. It seemed like a select bunch at Lee's Palace who danced during the show whereas the crowd(well, at least the front crowd near the stage) at the Wrongbar show a few months ago were much, much more into it, my theory being that the eye-level experience of Stelmanis and her back-up vocalist-dancers hypnotic dance movements were reflected back to the audience much more effectively. The eye-level experience of seeing Austra at Wrongbar outdid their set at Lee's Palace, but only ever so slightly. The goth-vocal tinged, rhthymic
"The Beat and The Pulse"
may not be the best song on the band's debut full-length
Feel It Break
but arguably is the definitive song of the band, and in my mind was the best song of the nigh - sweeping vocals, trance-like beats - you will be converted and you will love it.
Photos:
Austra, Trust, Army Girls @ Lee's Palace, Toronto (May 19, 2011)
MySpace:
Army Girls
MySpace:
Trust
MySpace:
Austra