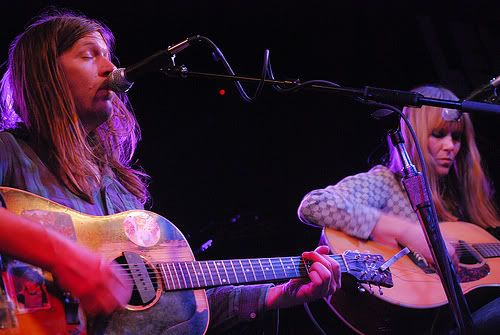 Evan Dando & Juliana Hatfield: photo by Michael Ligon
I stayed surprisingly true to
my original picks
for this night of
NXNE
. And making the most of my Priority Plass(thanks NXNE), I hit the night hard.
Kicking off the night early, I hit
The Music Gallery
to take in the 7 pm set of Toronto-by-way-of-California band
Snowblink
. I arrived just after the band had started it seemed with most of the pew seating occupied so I took to the right side of the church to stand and snap a few photos. Getting my first real taste of the band's songs, I'm now less inclinded to lump them into the indie-folk genre (my original preconception of what I thought they might be based on reviews I read) and even moreso have to draw a comparison to Feist who was the artist I was reminded of when I'd first sampled their tunes prior to their set. Like Feist's occasional use of a stripped down instrumental setup, Snowblink which is the project of Daniela Gesundheit had along with her only a drummer and guitarist, and the three musicians played a subdued set of not-quite-folk and skeletal pop. My first taste of Snowblink and it was good.
I decided to bypass the 8 pm timeslot for a snack and then headed to
Yonge Dundas Square
to catch the tail-end of
Fucked Up
but ended up missing the whole set. Hardcore supergroup
OFF!
who were playing the Square next were my 9 pm pick for the night and although I hadn't got the e-mail confirmation that day to photograph the show, the gentleman in the pit making the decisions was kind enough to let me shoot. The band consisting of Keith Morris (Circle Jerks, Black Flag) with Steven McDonald (Redd Kross), Dmitri Coats (Burning Brides) and Mario Rubalcaba (Earthless, Rocket from the Crypt, Hot Snakes) played a blistering set, the self-admitted 56-year-old vocalist Keith Morris in fine form as was the rest of the band (guitarist Dmitri Coats and his long red wavy hair flapping around providing visual stimulation for the crowd. Morris showed himself to be an articulate person, his banter touching on political issues, the punk scene, and growing old. His proposed plan if OFF! were to play the half-time show at the Super Bowl, including dropping tar from the Goodyear Blimp on to the heads of US Politicans was hilarious but at the same time illustrates Morris' political convictions.
Lee's Palace
was my next destination, mostly because I was keen on catching the midnight set of Evan Dando and Juliana Hatfield, but first there were the 10 pm and 11 pm sets of Aussie singer-songwriter
Washington
and American singer-songwriter Kevin Seconds respectively to to stand through. Fortunately, what I'd sampled from those artists prior to show pique my interest. I was a littled disappinted that Washington (whose full name is Megan Washington) was playing solo with only keyboards but almost from the getgo she showed herself to be a mighty talent. With her supple keyboard playing and emotive vocals, obvious comparisons are Fiona Apple and perhaps even Sara Bareilles. Megan played a set of originals as well as covers by Rufus Wainwright and fellow Aussie Paul Kelly, the latter which was her last song of the night and which she sung accapella. Quite a thin crowd at this point, but for those who were there, we were impressed.
With the crowd growing a little fuller for 11 pm, singer-songwriter
Kevin Seconds
(ex-vocalist of seminal Reno, Nevada punk rockers 7 Seconds formed back in the early 80's) took the stage. With his quite interestingly hand-decorated acoustic guitar which had among other things a picture of a young Johnny Cash as well as the words "This Machine Trolls Fascists" inscribed with black marker on it, Kevin played a great set of tunes that straddled country, folk and pop some a bit laid-back while others displaying a bit of a punk-ier energy with furiously strummed guitar. With song topics ranging from growing older[which seemed to be the defacto theme of the night thinking back to OFF!'s set], to his hometown of Sacramento, and to love and friends, Kevin had a good knack for melody and effective lyrics and his acoustic guitar chord structures and playing were fantastic.
As expected as soon as Mr. Seconds ended his set, I could feel the herd of patrons rushing as close as to the stage as possible for
Evan Dando
and
Juliana Hatfield
. I'd seen Evan live a few times in the past 6 years touring The Lemonheads playing newer material and the classics but on the other hand had never seen Juliana live, mostly because even as she was releasing new material she never ended up touring up here. As she'd mentioned during the set, she was releasing a new album/material later this year, but whatever made her decide to finally perform live up here now during NXNE (and better yet with Evan) I was just glad she was here. Sitting on stools side by side, and each with acoustic guitars, both were slightly older but at the same time almost exactly the way I'd remembered them back in the 90's, with their stringy hair, denim and morose facial expressions. Each took turns singing their songs, as well as singing together, on Lemonheads classics like "Drug Buddy" and "Down About It" and Hatfield tunes likes "Choose Drugs", and Dando was in fine voice as ever, while Hatfield held her own most of the time with only minimal strain trying to hit a few higher notes. This was a purely nostalgic set that left me with enormous happiness hearing these songs and at the same time a little sadness that the early 90's from which the setlist harkened from can now be classified as nostalgic. On a side note, while she admitted she was not a hockey fan, she just had to bring up the fact that the Boston Bruins won the Stanley Cup. Juliana we still love you anyway.
I felt I was on a roll at this point so I headed on down to the
Horseshoe Tavern
for the 1 am set of Montreal's
No Joy
. There was a good sized crowd for the blonde-haired duo of Laura Lloyd and Jasamine White as well as their male rhythm section on bass guitar and drums. There was a bit brighter stage lighting this time than when I'd previously
seen them in NYC at CMJ last October
which in my opinion detracted the vibe away from the band's shoegazer, noise-pop element and focused my attention more on how hard-rocking they were. Yes, they move on stage.
A quick check of the
NXNE Twitter
page revealed that the secret guests for the 2 am time slot at
Sneaky Dee's
were Vancouver retro-pop outfit
Chains of Love
and there I headed off. Some technical snafus prevented the band from starting on time but by about 2:30 am, things finally got underway. Chains of Love, consisting of Felix Fung (Guitar), Clint Lofkrantz (Bass/Guitar), Henry Beckwith (Keyboards), Nathalia Pizarro (Vocals), Rebecca Marie Law Gray (Vocals/Guitar), and Al Boyle (drums) play Motown-inspired, pop-filled, rock n' roll and have the sixties-influenced attire to match. The band's songs were glorious at times, but sometimes the tempos felt rushed. Asking the soundman for a lot of reverb in her vocals, frontwoman Nathalia Pizarro in her sparkly top and leather mini-skirt reminded me a lot of Amy Winehouse(back when Amy was voluptuous), exuded an exhuberance on stage and in her vocals. The band, quite literally at times, bashed away on their instruments, the drummer losing his cymbal a few times, while I believed a mic stand was knocked over at one point and finally, guitarist Fung lost the whammy bar off his guitar at the end. It seemed all over too soon, and with too few patrons really dancing (blame it on 3 am approaching at that point), so it may have not been their best set, but I'm sure this band could get an entire venue hopping.
Photos:
Snowblink, OFF!, Washington, Kevin Seconds, Evan Dando & Juliana Hatfield, No Joy, Chains of Love @ NXNE in Toronto (June 16, 2011)
MySpace:
Snowblink
MySpace:
OFF!
MySpace:
Washington
MySpace:
Kevin Seconds
MySpace:
Evan Dando
MySpace:
Juliana Hatfield
MySpace:
No Joy
MySpace:
Chains of Love