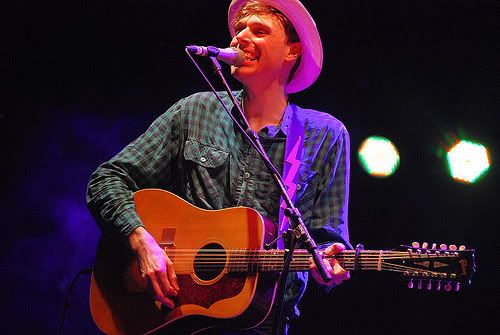 Joel Plaskett: photo by Michael Ligon
NXNE
just wrapped up so before the bombardment of festival coverage that will be upon you, I just wanted to get up a post on the Joel Plaskett Emergency show which kicked off
Luminato
over a week ago, a festival which also just wrapped this weekend.
Taking place at Metro Hall Square (renamed David Pecaut Square) a good sized crowd was onhand for the free show that was kicking off Luminato. Montreal alterna-rock outfit
Beast
wasn't really appealing to me from the start, with their somewhat dated sound merging 90's grunge and alternative rock with trip hop, hip hop and electronic rhythms. They were technically proficient, Francophone vocalist Betty Bonifassi posessing a strong, soulful singing style and the band was obviously appealing to some but they overall weren't my cup of tea. Drummer Jean-Phi Goncalves near the end of the set put on a fantastic display of drumming proficiency and when the band's bassist joined in and they both together segued into the intro of Beastie Boys' "Sabotage" I got excited for a moment although it only turned out to be a tease. Oh well.
Since the end of his
Thrush Hermit
days,
Joel Plaskett
has been alternating between releasing solo albums and as well as under the moniker of Joel Plaskett Emergency, the latter of which is a band configuration that chose for the Lumintao launch show that took place down at David Pecaut Square in Toronto on June 10. With original Emergency drummer Dave Marsh behind the skins and with multi-instrumentalist and current Toronto resident Peter Elkas as well as bassist Chris Pennell in tow, Joel and the band
played a set
that touched on all aspects of his career from the kick-off song which was Thrush Hermit's "From The Back of The Film", to recent solo tunes like "Deny Deny Deny" & "Through Through Through" to Emergency standards like "Come On Teacher" and "Extraordinary". I think I've underappreciated Plaskett outside of Thrush Hermit when I should have been paying more attention. As was fully exemplified during this live set, he's a clever lyricist and outstanding songwriter and while his gangly physical appearance may not be an indicator, Plaskett's seasoned comfort on stage as a performer (including humourous banter) is apparent. He's got a foothold in classic rock influences but at the same time his songs have a timeless quality which cannot necessarily be said of his Thrush Hermit days which definitely have a 90's indie rock quality to them. Regrettably, I wish I'd been more familiar with Plaskett's work as I would have sung along with many of those that were in attendance. It was one of those shows, that I'd not expected much but came out with a reaction like, that was really great. The show was not without a certain bit of promotion as Plaskett just released a solo-spanning rarities collection entitled
EMERGENCYs, false alarms, shipwrecks, castaways, fragile creatures, special features, demons and demonstrations
via his own label, New Scotland Records. The collection boasts 20 tracks spanning over a decade of his career and as impressed I was with Plaskett during this live appearance I may just have to pick up this new collection and rediscover him all over again.
Photos:
Joel Plaskett Emergency, Beast @ David Pecaut Square, Toronto (June 10, 2011)
MySpace:
Beast
MySpace:
Joel Plaskett