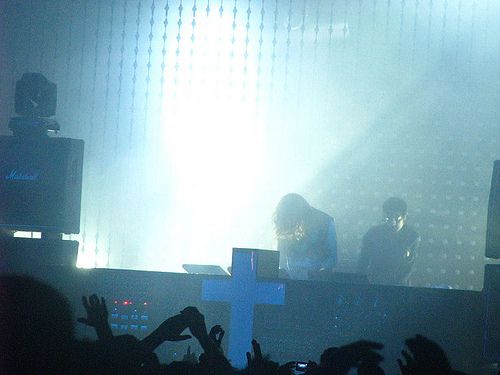 Justice: photo by Michael Ligon
Having yesterday gone through my photos of
HARD Fest
at
Fort York
: Garrison Common which took place earlier this year on a steamy August 4, it's funny that nature has today given this year's first dumping of snow around Southern Ontario. Not complaining about the snow but my photos from the summer has made me miss that weather ever so slightly. While most of the Toronto music blog-osphere / media had gone to the
Osheaga Festival
in Montreal that weekend (even though many of the feature acts such as
Sigur Ros
,
Jesus and Mary Chain
,
Justice
,
M83
,
The Black Keys
, and
Florence + the Machine
had Toronto dates just prior to the Festival), I chose to stay in Toronto since I was having my own downsized version of Osheaga spread out over a few days having
just
seen
Sigur Ros, Jesus and Mary Chain and now Justice and M83.
HARD Fest was quite a compact festival with just one stage (and an equally compact lineup), an area for food and drinks, and areas for merch and washrooms. I also love the fact that it's accessible by TTC, although I'm disappointed that Fort York had chose to move it's outdoor music site to the Garrison Common grounds rather than within Fort York itself as it had been back during the Rogers Picnic days. The lineup included the Afro-techno group
Buraka Som Sistema
, local electro-goth outfit
Austra
, French electro/shoegazers
M83
and French dance / electronic duo
Justice
. There was a late addition to the lineup with the electro-pop songs of
Charli XCX
who opened up the festival earlier in the afternoon but whose set I missed.
Buraka Som Sistema would get the award for most energetic live set I saw that day with their colourful-attired female vocalist pumping up the crowd with her singing and chants and her male rapping cohorts dousing the audience with some water gun action. Austra, with lead vocalist Katie Stelmanis in her circular sunglasses, played a tight set and if I recall correctly played a few new tunes. I'd been looking forward to seeing M83 and wasn't disappointed - I was a newbie to the band so just hearing their singles
"Midnight City"
(with its sublime sax solo) and "Reunion" made it all worthwhile.
With tweets from Osheaga all day updating about the wicked stormy weather they were about to get, then got, and then got again, and with that weather system moving west towards Toronto, I was hoping for the best. We were fortunate to have great summer weather through Buraka Som Sistema and Austra's sets and we managed to stay dry right up until near the end of M83's set but as that set ended and night was setting in, the raindrops came and then eventually poured. And although I had brought a plastic rain poncho, I chose to forgo it and take a little cover under the trees near the food area (although that turned out to be futile as I was still getting soaked). Making sure my camera was nice and dry in my backpack, the rain really wasn't that much of a downer since it was a warm rain and in some ways made the experience more enjoyable. The rain did delay headliner Justice's set a bit but as the downpour subsided and then cleared, and then Justice came on with their pumping dance set, it was all worth the wait. Terrific compact festival (or maybe I'm just getting old and can't take multi-day festivals.)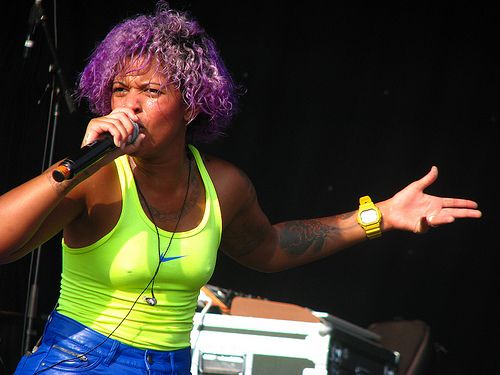 Buraka Som Sistema: photo by Michael Ligon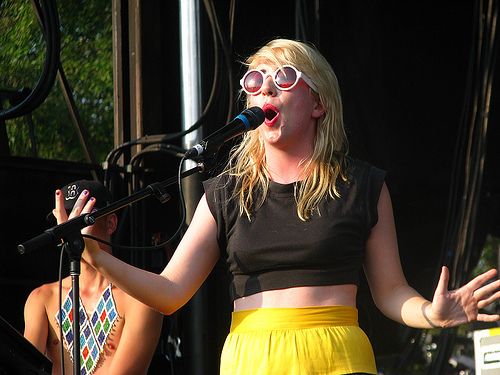 Austra: photo by Michael Ligon
M83: photo by Michael Ligon
Check out more of my photos from the show at the link below:
Photos:
HARD Fest w/ Justice, M83, Austra, Buraka Som Sistema @ Fort York Garrison Common, Toronto (August 4, 2012)
More reviews and / or photos from the show over at
Torontoist
,
Take More Photos
,
Aesthetic Magazine
,
Style Circle
,
Ride The Tempo
,
Dinos's Word
and the
Austra forum
.