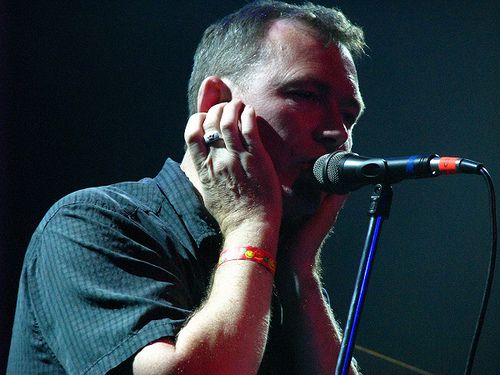 Jim Reid of Jesus and Mary Chain: photo by Michael Ligon
Hope everyone had a great Christmas as I did with family and relatives. Continuing in my quest to get up photos from shows earlier in the year that I haven't had a chance to get up yet, it's a funny coincidence that on Christmas Day, I'm up now to the
Jesus and Mary Chain
show that I'd attended at the
Phoenix Concert Theatre
back on August 3rd. I'd been wanting to scratch them off my bucket list for so long and it was well worth the wait as the Jim and William Reid of the band along with their touring band mates played an enticing
setlist
spanning much of their catalog. Although I'd not known at the time, Mad Men actress
Jessica Pare
was the band's special guest as she guested on vocals on both
"Just Like Honey"
and
"Sometimes Always"
, the latter which Jim mentioned they hadn't played that often and therefore felt like an extra special treat for us. At times I closed my eyes and I imagined myself back in high school in the late eighties when I first discovered the band, the sense of nostalgia so overwhelming as I recalled how essential their albums
Psychocandy
and
Darklands
. I thought, this is what it is like to see one of your musical heroes after so many years. It was so exhilarating. Kids, when your parents start fawning about the music they used to listen to when they were younger, don't give them to hard of a time about it. You will understand one day.
Check out some of my photos from the show
here
.
Reviews and / or photos from the show over at
Exclaim
,
Canoe
,
Wave Maker Magazine
and
From A High Horse
.