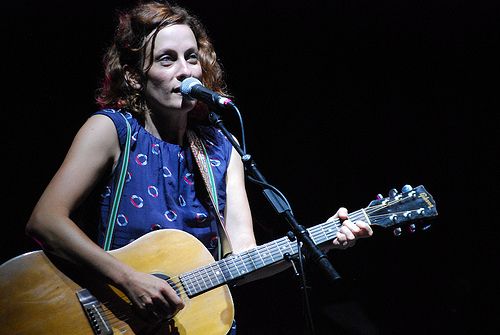 Sarah Harmer @ Fort York Garrison Common: photo by Michael Ligon
So I've been a bit AWOL lately, but I haven't necessarily been resting on my laurels. (OK, maybe I have been.) And although I've been cutting back on the amount of shows I've been going to compared to previous years, it's not the say I haven't been going to any shows. Like my blogging consistency, the decline in my concert attendance was bound to happen. Generally, I lost interest in new music, but also the novelty of the live show environment was waning for me. Maybe, it's a little bit of an age thing, where the audience seemed to get younger with every new band that came on to the scene. On the other hand, what little wisdom I may have gained over the years has made me realize that while good music continues to flourish, there's precious little of it that I'm really compelled to invest in both financially and time wise. Personally, I felt I needed to step back from the blogging and pursuit of new music, and start listening to music for enjoyment again. But also I needed to step back to focus on other things. I dunno; 2013 may be a different year for me in terms of this blog; maybe I'll rediscover music again. That the world didn't end on December 21 as the Mayans had predicted should be taken as a sign, shouldn't it? Well, that's what I'm taking from it.
Since I'm on Christmas vacation right now, between now and the end of the year I hope to get links up to photos from the shows I've gone to since the summer that I haven't had a chance to yet and then maybe I can start 2013 fresh.
On July 14 of this year,
Fort York Garrison Common
hosted a free show on a steamy summer night for the
Bicentennial Celebration of the War of 1812
featuring Shad, the Rural Alberta Advantage and Alex Cuba and headlined by
Sarah Harmer
. I made it out only for Sarah and it was an enjoyable, laid back summer set.
More photos
here
.