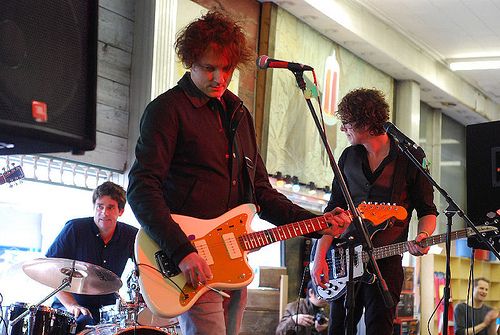 The Grapes of Wrath: photo by Michael Ligon
Yes, bands can have a second life, as proved by Kelowna, BC's
The Grapes of Wrath
. The band consisted of Kevin Kane and brothers Chris Hooper and Tom Hooper. The band's first album
September Bowl of Green
was released in 1984 although the band really hit their stride with 1987's
Treehouse
, the album that turned me on to them. I remember back then reading that they were Canada's answer to American band R.E.M. (who were also relatively early in their career), with their jangle-guitar pop sound. The band seemed poised for success, to an extent achieving it with 1989's
Now and Again
and 1991's
These Days
and then it seemed to abruptly end when Kane left the band. There was the
Ginger
period, basically Grapes of Wrath without Kevin Kane, but for all intensive purposes, I think most Grapes of Wrath fans (myself included) never gave them a chance. The Grapes of Wrath's trifecta of albums from 1987 to 1991, were all that really mattered.
But the core trio of Hooper / Kane / Hooper are back. The band released a singles compilation(featuring two new songs) entilted
Singles
last October and just released an album of new material, entitled
High Road
, this past March through Toronto's
Aporia
label. The trio, plus a forth (touring?) member, came to Toronto's
Sonic Boom
to play a warm-up set on the afternoon of Saturday March 23 (prior to their Canadian Musicfest showcase at the Dakota Tavern later that night). A small but dedicated crowd was on-hand, but it was quite noticeable that at least half the attendees there were there on a nostalgia kick - mothers with their young kids, dudes 35 years of age and up (myself included), the thirty-something couple dancing gleefully in the aisles especially during the band's performance of their older material. The band played a selection of their greatest singles showcasing their vocal harmonies, highlighted by a invigorating rendition of "Peace of Mind" and a plaintive "All The Things She Wasn't" and they also played new songs like the spright pop of "Good To See You" which would have fit in nicely on any of their older albums. It's funny how when I looked at them now, they virtually look the way as I remembered them back in 1987. And back to my introductory sentence - bands can have a second life. I wish them luck.
Photos:
The Grapes of Wrath @ Sonic Boom, Toronto (March 23, 2013)
Facebook:
The Grapes of Wrath
Twitter:
The Grapes of Wrath
MySpace:
The Grapes of Wrath
Soundcloud:
The Grapes of Wrath - "Good To See You", "Take On The Day"
*
Video:
The Grapes of Wrath - "Piece of Mind" (music video)
*
new songs included on the band's singles compilation Singles released in October 2012