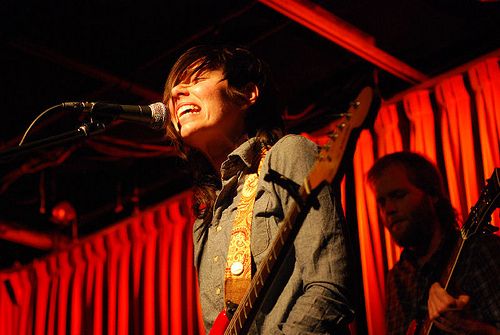 Heather McEntire of Mount Moriah: photo by Michael Ligon
After seeing
Diana's set at the Mod Club
, I could have just stuck around to see headliners,
chvrches
, a sold-out show as it was but I chose instead to hoof it down to the Drake Hotel to check out Durham, North Carolina country-rock band
Mount Moriah
. I first discovered them when I saw them at last year's
CMJ
festival in New York City when they played a
Merge Records
showcase (the label having released the band's second album, and their first for Merge, entitled
Miracle Temple
)and was quite taken by them so when I found out they were coming to Toronto for
CMW
and for their first ever show here, I penciled them in immediately. Consisting of the core duo of guitarist Jenks Miller and singer Heather McEntire (who met back in 2007 while both working in a record store in Chapel Hill; via
Spin
) as well as bassist Casey Toll and drummer James Wallace, the group humbly took the stage to a disappointingly thin audience numbering no more than thirty by my estimate. That disappointment aside, the group played an impressive set of Southern-fried country-rock that brimmed with a dark undercurrent, and if we were a quiet audience, and did not even edge closer to the stage on McEntire's encouragement, they didn't hold it against us. The band did their genre well, but most of my appreciation for them lay in vocalist Heather McEntire. McEntire's edgy haircut (think Tegan and Sara) belied a voice with a southern drawl straight from Emmylou Harris able to express heartache on quieter numbers and to belt it out with a spunkiness like a little firecracker on some uptempo tunes. McEntire's banter included the occasional "shucks" as she stated that they were from the south..."south of the south". I've heard of Southern charm, and she really had it. The band's date at the Drake was part of their extensive North American tour that they're on until at least the end of the June; the band were in Montreal for a show the day after and therefore could not have been booked for more dates during Canadian Musicfest. Hopefully, the next time the band hit Toronto, the word will have spread about the band and they will play to more people. Till then, I will maintain my bragging rights that me and and a small group of us caught the band's first ever show in Toronto.
Photos:
Mount Moriah @ Drake Underground, Toronto (March 20, 2013)
Facebook:
Mount Moriah
Twitter:
Mount Moriah
Bandcamp:
Mount Moriah
Video:
Mount Moriah - "Bright Light" (music video)