review
:
Hood
w/ Under Heaven @
The Drake Hotel
(Toronto, Ontario), Tuesday March 15, 2005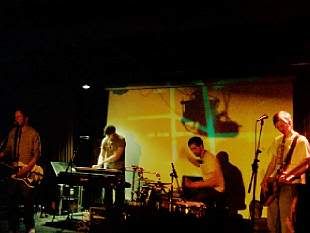 As I was already downtown yesterday, I decided to check out the
Hood/Under Heaven
show at
The Drake Hotel
. I walked in when Under Heaven had already taken the stage. Their music is all swirling, ambient, guitar soundscapes with keyboards, violin and minimal use of vocal sounds. Melody was non-existent but the music was strangely hypnotic. On a sidenote, I am bewildered that the band chose to perform while a Disney film was being projected behind them. Even more confusing was the fact that the projection screened hadn't been pulled down.(although this thankfully had been remedied by the time headliners Hood took the stage as Hood's set featured some lovely colourful screen projections)
Hood took the stage promptly around 11 pm. The band consisted of four young gentlemen, which is all the more surprising to learn that the band has material dating back to the mid 1990's. There were some nice keyboard arrangements but I was impressed with the ferocity of the drumming the most. One song featured an interesting funky sampled loop prompting comparisons to
Junior Boys
in my opinion. For the most part, Hood played their brand of moody modern rock songs. I've read about the band being compared to later period
Radiohead
, and I guess in some senses that rang true as Hood's music is for the most part accessible but at the same time thoughtfully challenging. ...check out a wealth of mp3's of Hood's music
here
.[
photos
]
Erasure
will be at
Massey Hall
on June 4th. [from
feedback monitor
]
British Sea Power
(May 17th @
Lee's Palace
) and
Deerhoof
(May 18th @
Lee's Palace
) tickets($13.50 and $10 respectively) are listed as on sale at
Rotate This
.
Check out Toronto music-based webzine
The Ratio
. [link from
20hz
]
The Hootenanny Tour
featuring
Carolyn Mark
,
Luther Wright
,
Jenny Whiteley
, and
Oh Susanna
hits the road on March 31st with stops in Quebec and Ontario. The tour hits Toronto on April 8th with a show at the
Tranzac Club
. [info from
Mint Records
]
Death From Above 1979
have
hit the road again
. They'll make stops in the U.S., Canada, and the U.K. They'll be in Hamilton, ON at
The Underground
for two shows, April 20th and 21st. As far as I know, they'll be playing most, if not all, shows with
controller.controller
. [tour info from the band site]
If you missed Death From Above 1979's appearance on
Late Night With Conan O'Brien
on March 11th, you can
download
a video(low-quality unfortunately). [note for downloading video: (scroll to bottom, click "free," then wait a moment and the download link will appear)] [link from
20hz
]
The Dears
will perform on
Last Call with Carson Daly
on March 22nd.
Kathleen Edwards
will be on
Late Late Show with Craig Ferguson
on March 23rd.
Tegan and Sara
will perform on
Jimmy Kimmel Live
on March 23rd.