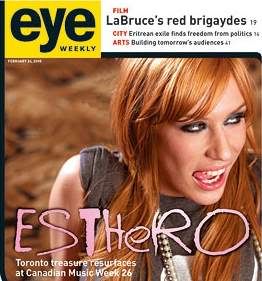 Important life lesson. Concert festival wristbands do NOT guarantee you access to ALL shows during the festival. Of course, I already knew that but then I thought I would have no problem getting into the
eye weekly
CMW
showcase(featuring the
5th Annual Canadian Independent Music Awards
, plus post awards sets from
controller.controller
and
Esthero
) at
The Phoenix
this evening. I showed up at
The Phoenix
before 9pm but unfortunately they had already met their quota of wristband attendees and tickets for the show were already sold out. I walked off disappointed back to my car but then decided I wouldn't give up so easy. I walked back to
The Phoenix
and hung outside of the venue for a bit. I didn't find any scalpers. Martha Johnson and Mark Gane of
Martha and the Muffins
walked right past me towards the parking lot across the street. I gave a street person some change. Waited. Waited. Waited. I guess 5 minutes had passed at this point. Decided to ask one of the guys at the door if they were letting any more wristband holders in, if people were coming out, but he said the show was sold out. I guess the ol' sad puppy eyes routine doesn't work if you're a dude, cause the guys at the door didn't budge. Walked away in disappointment(again) with a glimmer of hope that I'd hear a voice beckon
"ok buddy, go in"
but nothing, nada.
Yeah, this really blows
. The worst part was missing seeing Esthero. Let's hope I don't have any problems getting into CMW shows on Thursday, Friday, and Saturday.
As you've probably already heard, read, what-have-you
The Shins
are FINALLY coming back to Toronto on April 17th for a show at
Kool Haus
. There's a little writeup about The Shins at
Soul Shine Magazine
, which in particular indicates that a brand new video for
"New Slang"
can be seen over at
Launch.com
. Well, I don't know how "new" that video is but it's new to me.
Electrelane
will be releasing their third album
"Axes"
on May 9th. [from
thestereoeffect
]
Joe Pernice
will be doing a solo show on May 4th at the
Horseshoe
in Toronto. [thanks to
chromewaves
for the info]