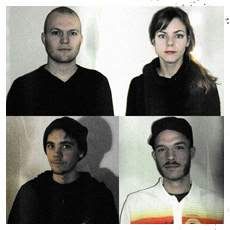 Over the weekend I picked up concert tickets at
Rotate This
for
Snow Patrol
and
Joe Pernice
. While I was there, I also picked up Swedish band,
The Concretes
self-titled disc which they were selling new for a nice $9.99. I've been listening to it all day and it's a spectacular pop record that I wish I'd discovered sooner.
Speaking of Swedish bands, I've been checking out song samples on the 'net of artists on Sweden's
Labrador
record label. Currently, the only band on the label of which I have a CD is
Club 8
, a duo who perform delectably gorgeous girl/boy indiepop. I've read and heard good things about
The Radio Dept.
but have yet to leap into any purchases. Two bands that the label has signed recently are
Sambassadeur
and
South Ambulance
.
Download Sambassadeur mp3's
here
[under media].
Download South Ambulance's
"Die 5 times times 5"
here
, and other mp3's
here
.
Sambassadeur's song
"Between The Lines"
is filled with gorgeous female vocals, lovely background vocals and delicate indiepop instrumentation. On the other end of the indiepop spectrum are South Ambulance whose first single
"Die 5 times times 5"
is a throwback to c86 style indiepop, with it's ringing guitars, melodic vocals and energetic percussion. Just when I thought that indiepop had run its course[amateurism can only go so far], I'm quite glad to find that there's talented bands to carry on the tradition. [photo from
http://../
]
The La's
will reform for the
Summer Sonic Festival
which takes place in Tokyo on August 13th and 14th. [from
XFM
] A look at the
Summer Sonic Festival
website also shows that
The Arcade Fire
will also be performing. Anyone in the mood for a trip to Japan?
The new issue of
Sponic Zine
(issue #21) is now online, and includes feature articles on
Lou Barlow
and
Bob Mould
.
It's come to my attention through a concert recommendation in the recent issue of
NOW
that
Juliette and The Licks
[which features actress
Juliette Lewis
on lead vocals...yes, really), and
The Organ
will be performing this Tuesday March 22nd at
Church at Berkeley
(315 Queen St. East) in Toronto as part of Montreal-based magazine
Strut
's 2nd anniversary. I can't find any details such as ticket prices, set times, so if anyone has any info please leave a comment. I'm only really interested in seeing The Organ, by the way.