concert review
:
Shonen Knife
w/
The Leather Uppers
@
Lee's Palace
(Toronto, Ontario), Saturday March 12, 2005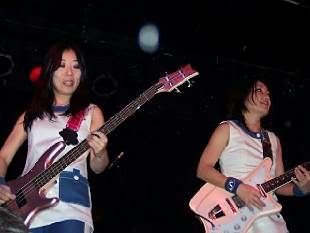 The
honour
of the
first band I ever mentioned on my blog
goes to Shonen Knife. The last time I had seen the gals was in October 2003 at the
Horseshoe Tavern
who were promoting their just released new album
"Heavy Songs"
. My 'review' of that show was little more than me saying they 'rocked' and a year and four months later, they've returned to Toronto to bring the 'rock'(with a good dose of pop) once more. Sisters, and Shonen Knife founding members Naoko and Atsuko Yamano, were back to continue the mission, along with new and totally adorable drummer(pigtails and all), Ettchan. This current tour was to promote the reissue of their first four albums and the band mentioned that they also have a new Japan-only release coming out(with no current plans to release it in North America; boo).
Surprise, surprise, the mighty
Leather Uppers
were the openers. I didn't know who the openers were going to be, so when I walked into
Lee's Palace
and found out The Leather Uppers were the openers I was glad because I'd never had the chance to see them live before. Actually, I'd never even heard their music before that. I'd heard their name floating around from way back in the 90's, and seeing them now, they weren't quite as I would have imagined. Firstly, I never thought they were a duo. Secondly, they were quite younger looking than I imagined. I guess they were only in their early 20's when they formed in the early 90's because they looked like they were only in the early-to-mid thirties at most. However, my assumption that they were a garage rock band was quite correct. The duo played their brand of crunchy garage rock tunes which reminded me alot of
The Hives
. Things started to sound a litte samey after a full set but I gotta give 'em props for their energy. And the matching striped dress shirts were a nice touch. Y'know looking the part is half the battle.
With the sound of what I believed was traditional Japanese folk music in the background,
Shonen Knife
finally took the stage around midnight. Taking the kitsch level up a notch, they wore matching 70's style polyester outfits. Along for this tour was new drummer, Ettchan, who looked like she was in her twenties and was adorable looking in her pigtails. Watching Ettchan pound away at her drumkit(and competently at that) was really fun to watch. Naoko(on guitar) and Atsuko(on bass guitar) alternated lead vocal duties on different songs. Their sound hinted at a variety of influences from The Ramones, to power-pop, to metal cliches and sixties pop. I've always found their song themes quite a lark. What other band could sing songs about spam e-mail(
"Spam"
), being bad at directions(
"Map Master"
), the wonderment of the elastic band(
"Rubber Band"
), and banana chips(
"Banana Chips"
). Throw in a cover of
The Ramones
'
"I Wanna Be Sedated"
and the audience was downright giddy with excitement. I can't remember the last time I went to a concert and people were actually slam dancing. Ok, maybe I've never been to a concert where people were slam dancing, but during
"I Wanna Be Sedated"
a group of dudes took on the task, while everyone else just tried to stay out of harm's way. It was fun to watch for a minute or two but I think most of us were just too old for that shit. Later on in the set, the girls broke out the heavy metal cliche hand salutes and accompanying power chord strums, prompting the audience to raise their hands and return the salute. The girls had a good amount of showmanship and I loved it when they broke into their heavy metal guitar poses. Not much else I can say except go check out the girls if they come to your town or a town near you. Guaranteed for a good time every time. [
photos
]
Brooklynvegan
has a tasty mp3 of
Bright Eyes
covering
Feist
's
"Mushaboom"
. Also from
Brooklynvegan
are
photos
of
Stars
' show on March 8th at New York City's
Mercury Lounge
.
Also, check out some live
Feist
this Thursday afternoon from
SXSW
. Listen in at
woxy.com
, and check out that site for the full Thursday schedule.[link from
arts & crafts Broken Telephone forum
]
The Herbaliser
, with openers
Bonobo
, will be coming to Toronto for a gig on June 30th at
The Opera House
. Tickets TBA. A week later the
"Beats, Breaks & Culture: Toronto Electronic Music Festival"
will make its 2nd annual appearance at Toronto's
Harbourfront Centre
and the best thing of all is it's free! Last year's festival introduced me to
Junior Boys
. Details for this year's festival are still TBA. [from
feedback monitor
]