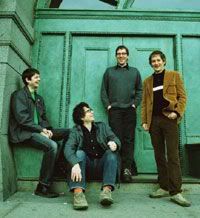 The Toronto Sun
speaks with
Wilco
's Jeff Tweedy about the band's not-so-weird sounding upcoming new album[via
Largehearted Boy
]. Halifax's
The Coast
similarly talks to Wilco bassist John Stirrat. We can expect to hear at least a few new songs when Wilco rolls into Massey Hall tonight.
Looking ahead to Saturday night, I'm looking forward to seeing
Konono No. 1
at Harbourfront Centre(CIBC Stage) as part of the
Beats, Breaks and Culture
festival.
The Montreal Mirror
and
Eye Weekly
both spoke with
Crammed Discs
founder Victor Kenis whose label has released music from Konono No. 1. For a taste of Konono No. 1's music check out this
promotional video
.
According to info at
The Heavy Blinkers
website, their new double-album "Health" is set for release late-autumn. Also, the Blinkers' Jason and David are currently producing Halifax's
Jenn Grant
's first full-length album at the CBC in Halifax.
The boys who refuse to grow up,
Sloan
have some summer
shows
scheduled and will be in this neck of the woods for a show in Toronto on August 12 at Centre Island as part of Wakefest. The guys also have a show in Buffalo, NY at Buffalo Place on August 24th.
The Deadly Snakes
return to Horseshoe Tavern for a show on August 25th.
Listen to/watch
the session
Belle and Sebastian
did for
Morning Becomes Eclectic
yesterday morning[via
Live Net Music
].
Finally, here's some
Neko Case
live show torrents including, Neko @
WFMU Studios in September 2002
and Neko @
Bimbo's 365 Club in San Francisco, CA on May 21, 2003
. Can't get enough Neko.
Many things happening this weekend including The Diableros/Magneta Lane show tonight in Mississauga as part of
The Beating Heart
festival, Wilco tonight at Massey Hall(which my friends and I are going to),
Beats, Breaks and Culture
festival at Harbourfront from tonight to Sunday,
Celebrate Toronto Festival
along Yonge St. also from tonight to Sunday, and
Afrofest
at Queens Park on Saturday and Sunday. Have a great weekend!