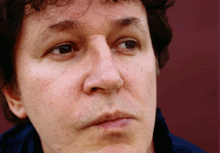 Billboard
reports that
Robert Pollard
will release his second Merge solo album of the year, "Normal Happiness" on October 10th. [photo from
Billboard
]
Listen
: Robert Pollard -
"From A Compound Eye"
(LP, 2006)
MPR
has a live session from
Tapes N' Tapes
which they performed for the station on July 21, 2006. The band open for
The Futureheads
at the Phoenix in Toronto tonight. I think I'm one of the few music bloggers that hasn't heard much of Tapes N' Tapes nor the new album from The Futureheads. Hence, I've changed my mind about going to the show tonight but I hope everyone has a great time.
XFM Scotland
has archived the acoustic live session(from July 24, 2006) that
The Sleepy Jackson
performed for them. They performed 'God Lead your Soul', 'More Than One Way', and 'New York/Glasgow Sun'. [via
Live Net Music
] Their new album "Personality - One Was A Spider, One Was A Bird" was released in North America this past Tuesday July 25th. Listen to tracks from the album over a their
MySpace
site.
Bradleys Almanac
has a review, photos, and mp3 download of the set from
Camera Obscura
's show in Allston, MA at Great Scott on July 6, 2006 plus a whole bunch of Camera Obscura-related links.
Gary Numan
will be at The Mod Club on August 3rd, not at Circa Club as originally announced.
Good news over at
Stille Post
that
ALL CAPS
will be putting on an all ages outdoor show with the
Toronto Public Space Committe
and
Dufferin Grove Park
on August 12th(from 3-9 pm and will feature a bunch of bands including
DD/MM/YYYY
,
The Diableros
,
Stop Die Resuscitate
,
Neil Haverty
,
I Can Put My Arm Back On, You Can't
,
Proof of Ghosts
,
Mantler
, and
The Lolo Project
.
Tina Dico
and
Tobias Froberg
will be at The Mod Club on September 16th. [via
Pollstar
]
Chromewaves
informs that UK's
The Beautiful South
will be in Toronto for a show at the Phoenix on November 1st. I think I want to go to this just for the chance that they might perform at least one
Housemartins
song.